Post by Icctrombone on Sept 15, 2019 6:35:34 GMT -5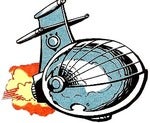 This complete Mantlo's giant Hulk run, so it's time for reflection. I really enjoyed Mantlo's run. I start out with apprehension, because I know some people think of him as a hack, and at the beginning his writing (scripting, plotting, and characterization) were weaker than what had just come before. Turning Glenn Talbot & General Ross into villain felt like a regression. Talbot had actually been a stand-up guy for most of his history. That made the love triangle so unique, because he seemed worthy of Betty and friendly to Bruce. And while Ross had hated the Hulk for a long time, he grew to respect Bruce and care for his welfare in the years before Mantlo started, so it was shame to see that wiped away. However, it did create opportunities for new storylines and Talbot's obsession with killing the Hulk and apparent death opened the door for Betty to become a love interest again.
Mantlo sent the Hulk on a world tour arc that introduced characters like Sabra and Arabian Knight and fascinating new villain team in the U-Foes. He brought Rick Jones and Betty Ross back into the picture for stints (but then had Betty flip-flop in ways that seemed strained and inauthentic). Glorian & the Shaper of World had a great appearance. The High Evolutionary attempted suicide by Hulk, and Mantlo somehow got away in the 80s with repeatedly having Bruce wish for death. Rocket Raccoon entered the mainstream. Bereet moved over from The Rampaging Hulk magazine, and she was a unique artistic visionary.
As opposed to those who want a permanent status quo, I think that as a character born from transformation, it's nice to change the nature of the Hulk occasionally. Mantlo gave us a couple years of Hulk with Bruce Banner's mind, and for the most part it was really great. Dr. Kathryn Waynesboro was an interesting love interest; sadly, the Crossroads storyline removed her from the picture. Although the execution wasn't perfect, for the most part the whiplash transition from a smart Hulk to a mindless one was really done. I imagine Crossroads might have been unpopular or tedious to read monthly as released (was it?), but as a binge it was pretty good. It's a big risk. I think Mantlo left Hulk in a good spot. Unfortunately, I read ahead into Byrne's run. While I won't talk further about it now, it's a shame Byrne did follow Mantlo more organically.
Nice recap. When did Mantlo start writing the Hulk ?