Post by hondobrode on Dec 21, 2017 14:08:34 GMT -5
Death-Man, Batman 180, May 1966 (Kanigher, Kane and Anderson)
I so wanted to turn to the first page in this issue to see that kind of art and that kind of skeletal face.
I din't, but that never has lessened the impact that Death-Man's appearance had on me. I could imagine (as, truth be told, we young readers did with so many comics) that the how the insides would look, and that always helped a bit.
We can't overestimate the importance of a comic book's cover back in the days before subscriptions, before specialty stores, before pre-ordering, and this cover is an example of why those covers were so important. To a certain extent, the insides didn't matter. If the cover grabbed you, decision made. Down to your last 12 cents, with only this and
Hot Rod Racers
#8 lying on the shelf, (Check it out here at the invaluable Mike's shebeen, not wasting an image:
www.dcindexes.com/features/newsstand.php?publisher=charlton&type=calendar&month=3&year=1966&sort=alpha
I think we know how everyone would have chosen.
Death-Man. Like his costume, which needed no cape, no splash of color, no large "D" on a belt, his name went straight to the point. How simple. How scary. No hyperbolic, overdone "Deathmaster," "Deathdealer," "Deathbolt" or "Deathstroke" for this guy. His mask reinforced the subtlety. No leering grin, no attempt at personality beyond the wryest of grins. Very much like Mrs. Pruneface, now that I think of it, my Day 2 entry. (Love me those skeletal faces.)
The .45 in his hand may seem almost an afterthought, but I noticed it right away. "Super-villains" didn't pack .45's in the DC and Marvel Universes. Their gunsels, thugs, and assorted toughs might, but their guns really weren't prominent. Super-villains used their super-powers to defeat you. Of course, a .45 is much more efficient and quick. No wonder Death-Man seems more a Dick Tracy villain than a gimmick-guy.
It added one more element of grim believability about this villain who dropped in from nowhere, and never returned. Yes, like a few others on my list, Death-Man never reappeared. (I guess he's shown up in
Batman '66
, but I think you know what I mean. He was a one-time danger. That also makes him an even more of an archetype.
Of course, we might argue, Death-Man did reappear, several months later, on an equally stunning cover, this time by Infantino and Roussos, not Kane and Anderson.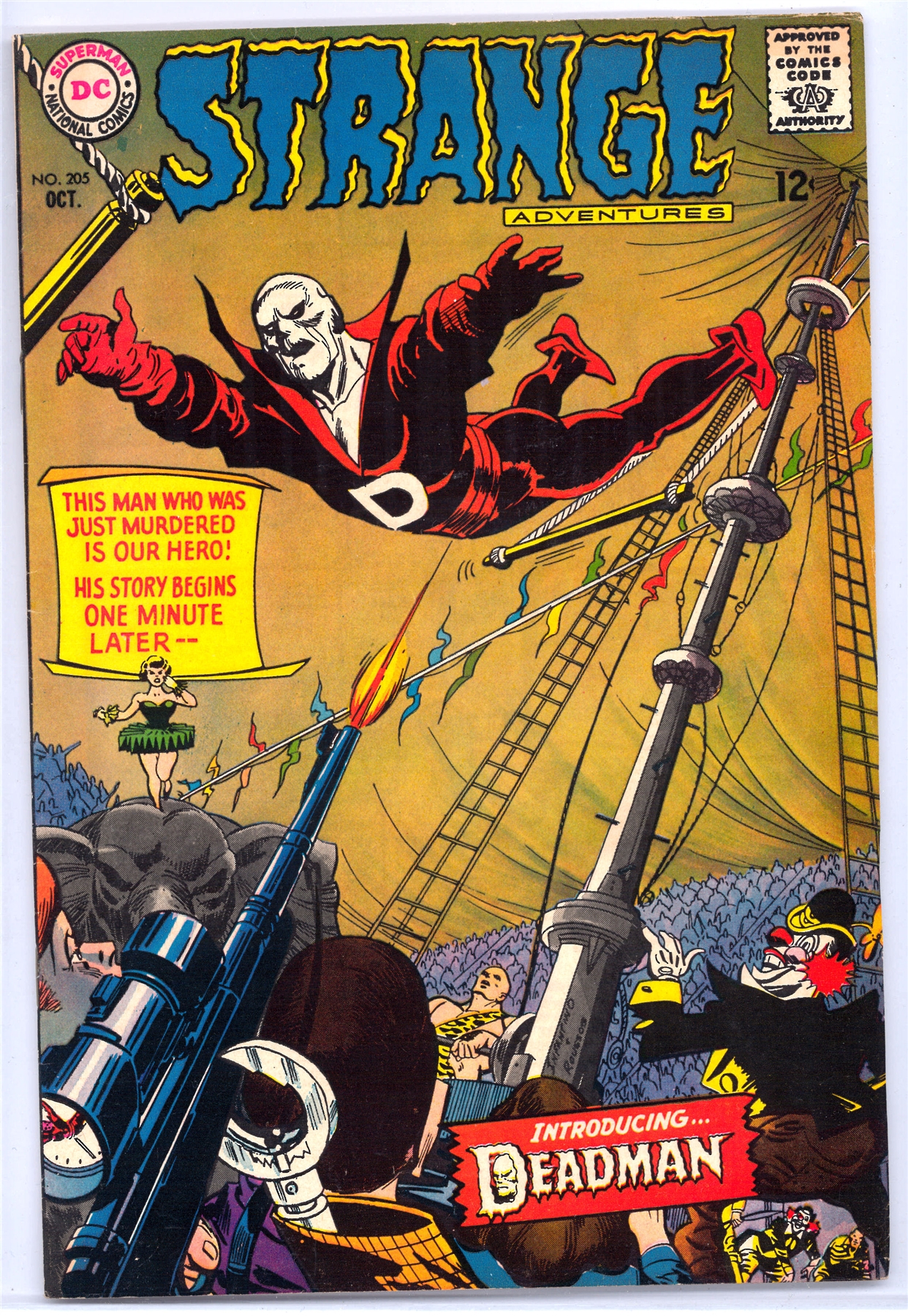 I can't recall reading about any link between the two, but Deadman's costume and overall look seems to owe at least a little something to Death-Man, one more reason I can't resist including him on my list.
Outstanding pick
Prince Hal