Post by Paste Pot Paul on Dec 23, 2014 15:33:54 GMT -5
Well cheers
coke and comics
how the hell do I follow that. You know I'm getting fed up with all of you being better writers than me, just quit it ok.
Day 11
#2. Action 1
Dredger, Hellman of Hammer Force, Blackjack, Play til you drop, Hookjaw, The coffin Sub, Sports not for Losers, and The Running man. The strips that started the greatest(and certainly most violent) comic I had ever beheld. I'm 11 and still reading everything voraciously, any comics I can get my grubby mits on, as well as any book I can find(I would order books from school based on page count because it would last longer). My mother had a regular order for magazines and I was allowed one as well. That was COR!!, the british humour weekly, which I still love and have absolutely no memories of...
Then I saw that cover above, the entire planet is in the grip of Jaws, a generation of Kiwis are terrified of swimming at the beach(a terrible thing in a country where you are 2 hours from the ocean at worst), and theres a huge shark on that cover. I'm in. Mate COR!! is gone so fast its like Im the Flash, well Paulie Quick...nah, no ring to it.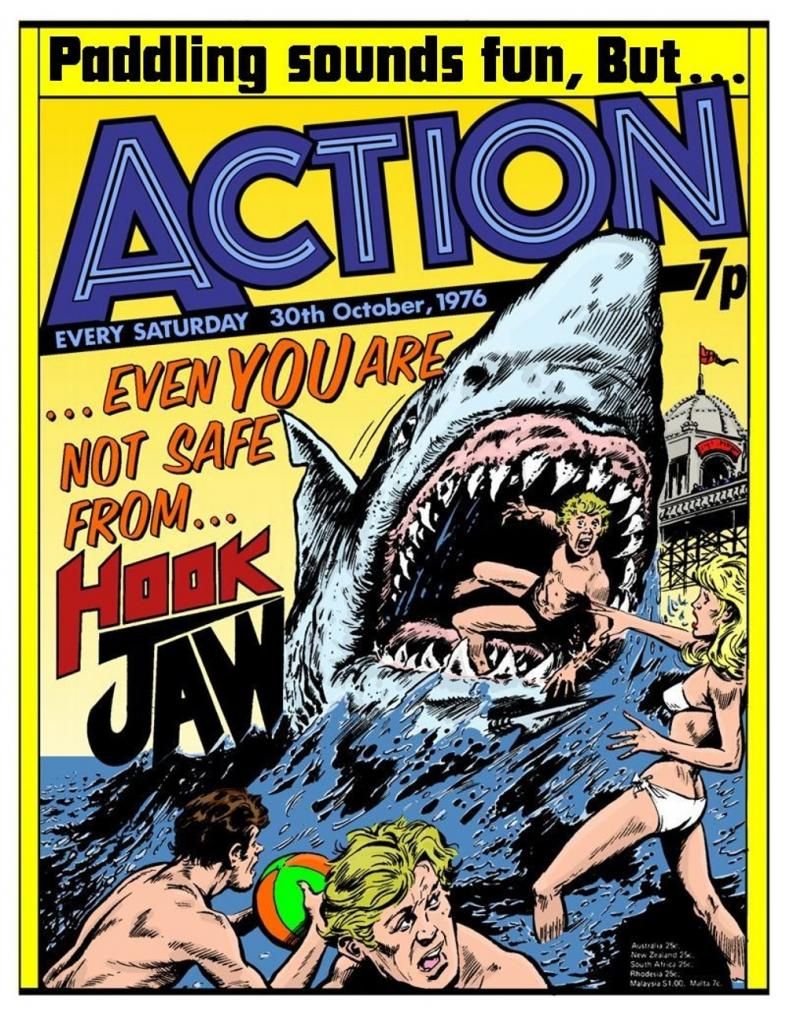 Dredger was a subtle take on Dirty Harry, Blackjack the boxer who risked death every time he fought, Hellman the German Panzer commander who disobeyed his nazi superiors, and the obligatory sports story. There were some other strips of which I have zero recollection too.
, a
Then in the 12 week things started to change, they introduced the story Look out for Lefty, and a week later the classic Death Game 1999.
Lefty was a strip about a left-footed striker for some 3rd grade team, battlers not pros,and how he takes them to stardom, but it dealt with the problem of Football hooliganism. Needless to say it riffled a few feathers, and after reading somewhere that the character was based on someone who had played at Middlesborough, led to my lifelong obsession with that team, to the amusement of football-fan-friends.
Death Game 1999 however is where its all at. A subtle (just like Dredger above) take on the Rollerball movie, this obsessed me. It was everthing an 11 year old could possibly want in a comic, it was everything Superman and Batman werent, I did (and still do) love it.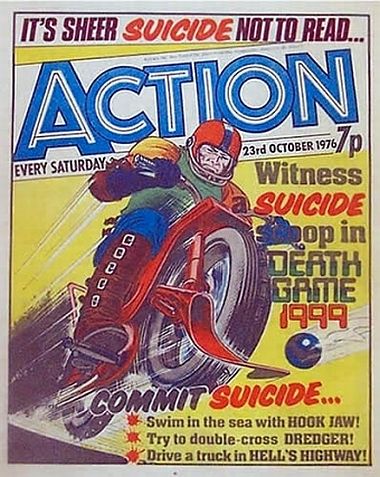 ,
Action burned bright, but not for long, every 11 and 12 year old knows that when they find something they REALLY love, then the adults are going to come along and screw it all up for you. As Fredrick Wertham did for the american comic in the 50s, wrecking the really fun stuff, the British parent did for Action. When parents finally woke up and saw what their kids were reading they flipped out. The editors hacked, and the editors slashed, but they never really got humpty together again. What they could print now was just a hollow shell of my beloved book, no guts, no glory. They eventually folded the book into Battle, but no-one cared by then(us 11 year olds are pretty fickle too I guess).