Post by thwhtguardian on Jan 11, 2015 21:12:09 GMT -5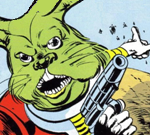 The Gambler's World
today and here are my thoughts...
Before I really get into things, I just want to say that the idea the Rebellion would be loosing battles against the Empire in a galactic civil war on purpose, to garner support and to recruit more members just seems ridiculous. But we'll just accept that as it is and continue.
I agree that Blackhole is a very striking looking and memorable villain. It's probably been around 15 years or more since I read this story and to be honest, Blackhole and how he looked are the only things I remembered about it. So yeah, a very memorable character design. Pity that Russ Manning couldn't come up with a better name than "Blackhole", but I guess it's a code name, rather than a real name, so I'll let him off.
I like that Manning has drawn a ship for Luke & Leia that is clearly based on the original concept art for the Rebel blockade runner. Manning must surely have been supplied with still shots and concept art from
Star Wars
by Lucasfilm, in the same way that Roy Thomas et al were over at Marvel.
Vorzyd 5 is a very un-
Star Wars
-y sounding planet name. Also, upon arrival at the Gambler's World, what the hell has Leia got in her hair? She seems to be wearing a sprig of leaves or something, right smack in the middle of her cinnamon buns hairstyle. Very weird, although it disappears after she's taken into custody.*
It's not explicitly stated in the strip that Luke is using the Force to win the game in the casino and Luke himself doesn't seem to be aware that he is either. He's just being uncommonly lucky at the game, as far as anyone is concerned. There's a later reference to Luke's luck when he draws the short straw and has to go and meet the secret Rebel contact on Vorzyd 5 (who turns out to be the president).
The black stormtroppers are an interesting twist on the regular Imperial stormtroopers and I must say, I quite like the look of them. Also, I like the sub-plot about the "Freelies" trying to steal R2 and 3PO.
Another thing that's interesting is the way that the whole story is being told to a Rebel super computer called Mistress Mnemos by C-3PO. That's an interesting plot device, but ultimately, it's kind of unnecessary and doesn't really add anything.
The spy-eye hovering surveillance devices that the Imperials use to follow Luke on his way to meet with the secret Rebel contact are apparently whizzing from side to side too fast to be seen. If they were moving that fast, they'd be generating an awful lot of noise from the air displacement -- Luke would definitely hear five of them hovering just above his head!
Overall, I enjoyed this story a lot more than I thought I would. I do still prefer the later Archie Goodwin/Al Williamson strips, but these are a lot less "kiddy" or "juvenile" than I remember them being. I also appreciate Manning's art a lot more than I did the last time I read these comics. There's a clarity to his line work that is very pleasing and his set detail -- while a little stylised and not terribly Star Wars-y at times -- is really nice. Of course, Manning's art still looks a lot more cartoony than Williamson's later strips, but I definitely like the artwork a lot more than I used to.
Incidentally, I read in the back of
Classic Star Wars: The Early Adventures
#1 that these
Star Wars
strips were the last continuous work that Manning took on before he died of cancer in 1982.
Anyway, I'm glad I took the time to re-read these today. So thanks for prompting me to do that
thwhtguardian
.
* - This might be harder to spot in the original black & white strip, I guess. But in the colour Dark Horse reprints the sprig of leaves is coloured green and sticks out a mile.
Yeah, I thought it weird that the Force wasn't the given reason why Luke won the game, though I suppose at this stage of the game he doesn't know much about the Force so I suppose it fits.
And I agree whole heartily about the super computer plot, it came completely out of left field, to the point where I thought I had missed a strip; though it does become clearer in the next story which ran on the Sundays during this strip so I suppose if we were reading this as it came out I suppose we wouldn't been as lost.