Post by shaxper on May 24, 2015 22:29:26 GMT -5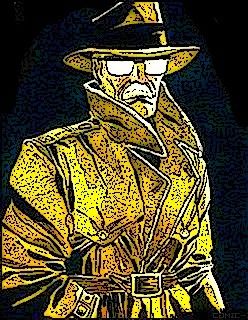 The 2015 Jamie Awards
In memory of (Captain) Jim Zimmerman, a great friend and leader
Please review the nominees below and then follow the link at the bottom to our secure, anonymous online ballot. One vote per participant. You are allowed to vote for yourself and your own threads.
Nominees for The Professor X Award (Best Discussion Starter)
Icctrombone:
"He's started a number of long running threads in both the classic comics section itself, as well as the off-topic forum, such as the Impossible and Goofy Covers, Classic Scans, Favorite Song, etc." -- Scott Harris
wildfire2099:
"From all the fun I've had following his exploration of
Star Trek: Deep Space Nine from the beginning
, to his establishing of the
All-Purpose Books Notes and Reviews Thread
, his opening the floodgates on
Projects You Want That Will Never Exist
and
The Worst Character Ever
, and (my personal favorite),
Marvel Giant Size, the DC Implosion, and other 70s Marketing
, wildfire has added so much worthwhile, engaging, and thoughtful discussion to the forum that I've thoroughly enjoyed following." -- shaxper
mrp:
"not only does he start a lot of discussions but also on a variety of subjects from comic tv shows, up coming movies to novels and sports. He's a regular renaissance man and I always look forward to seeing what's on his mind." -- thwhtguardian
Reptisaurus!:
"I mean, the
Silver Age Spider-Man guest appearances were terrible
. What is up with all the
swiping
? What is this
ebay
? And why don't people talk about
Stephen Platt
anymore?" -- coke & comics
Trebor The Unconquered:
"who started several thought-provoking and enjoyable threads, including Kids' Stuff, Print vs. Digital, and Changing Habits (which I was shocked to learn was
not
about nuns disrobing). He is a knowledgeable, gracious poster and a valuable member of our community." -- Phil Maurice
Nominees for The Best Contest/Games Thread
The Classic Cover Contest:
"Best thread that I look forward to is the Classic Cover Contest. Love that thread and if it was the only one here, I would still be a member. It is a great way to see a bevy of covers in a wide variety of inventive topics/subjects." -- pinkfloydsound17
One Letter Off Thread:
"I consider the
One Letter Off Thread
a game, and it's absolutely my favorite. Admittedly, I gave my best material to that thread when we were still at the old site, but I absolutely love seeing the zany stuff others have come up with and wish the thread would see more action. I hereby nominate said thread!" -- shaxper
The CCF Film Club:
"not only is it fun picking new themes when you watch the most of another user's choice but I love seeing and talking about what everyone else is watching." -- thwhtguardian
The First/Last Name Game threads:
"the three First/Last Name Game threads together seem to be a dance that never ends or slows down." -- coke & comics
The Word Association Game:
" It's just so marvelously beautiful in its simplicity and often gives an unself-conscious glimpse into the minds of some of our more deranged members." -- Phil Maurice
Nominees for The Brother Power the Geek Award for Funniest Member
dan b.:
"Well I think it only makes sense to nominate the guy whose off-beat humor was the source of this award's name. Between his strange obsessions with Brother Power the Geek #3 and Sgt. Fury Annual #4, as well as the hilarious presence of the Gang of 8, not to mention the humor that ensued each time he forgot which account he was logged on as,
dan b.
brought a tremendous amount of fun and laughter to our little community in its Year One. Stupid human. Now feed us." -- shaxper
Hoosier X:
"anyone with that much silver age love has to be in this category

" -- wildfire2099
Slam_Bradley:
"nearly every comment he makes has me smirking." -- thwhtguardian
the4thpip:
"He cracks me up." -- Icctrombone
ironchimp:
"He has a pretty sideways sense of humor, which I appreciate." -- Scott Harris
Nominees for The Best Modern Comic Thread
The European Comics Thread:
"I'd like to nominate DizzyD's thread on European Comics found
here
. while a few of the comics discussed are chronologically classic, most are modern comics and the thread has opened up a whole new world of possible reading for me and introduced me to series and creators I would never have discovered otherwise." -- mrp
Orphan Black outsold all DC and Marvel titles in February:
"I really enjoyed our discussion in
Orphan Black outsold all DC and Marvel titles in February
. Normally, I would think it's in bad taste to nominate a thread I started myself, but it's not the content I brought to the thread that made it so memorable to me. It's how it evolved into a conversation about how elements like digital media distribution and Loot Crate affect publication numbers and, subsequently, publisher decisions in the current comic book climate." -- shaxper
Nominees for The Krypto Award for Friendliest Member
hondobrode:
"he's always cordial when interacting, always has a kind word for those in need, always seeking to help others out whether it's with a bargain in the bargain hunter's thread, a suggestion of a new book he encountered, or whatever. It's always a pleasant experience interacting with him. " -- mrp
wickedmountain:
"Somehow, wickedmountain always seems happy and friendly. It's unnatural!" -- Scott Harris
coke & comics:
"In addition to being a friendly guy in general, he's gone so far as to make the community, itself, more friendly by starting the
introduce yourself
thread, The
Classic Comics Book Club
last year, The
Who is Missing And How Do We Find Them?
thread for locating users from the old community who hadn't yet found the CCF, and the now defunct
Monthly Model Member Society
." -- shaxper
Earth 2 Flash:
"no matter the context he always seems upbeat." -- thwhtguardian
Coldwater:
"Here is a member who is genuine, open and honest, armed always with an encouraging word or self-deprecating slice of life to bolster and reassure others.
Coldwater
is a sensitive and caring soul, a great listener, and manages to shine even here, among such brilliance.

" -- Phil Maurice
MechaGodzilla:
"I like the vibe of his posts and he seems to be a decent chap." -- Icctrombone
benday-dot:
"he's always seemed polite, funny and prepared to see the potential good in most things." -- Confessor
wildfire2099:
"there is an eagerness and energy to his friendliness. He just really seems to enjoy talking comics." -- coke & comics
Nominees for The Best Non-Comics Thread
Meanwhile...:
"it gives us a place to talk about what's happening in our lives outside of comics." -- Scott Harris
Mad Man in a Blue Box: Next Step Everywhere:
"This thread is an intelligent discussion of all things Doctor Who; both new and classic. I'm always happy to indulge one of my other passions, and this thread is an interesting opportunity to interact with fans who did not grow up on classic Who like I did." -- foxley
Robo Dan's Underworld Garage:
"It is always interesting to discover new music from all genres, encounter different perspectives on music, and to just revel in the vibe that permeates that thread. I like a lot of different types of music and have fairly eclectic tastes, but I always find something to surprise me in that thread.
" -- mrp
Who Else Has "Cut the Cord"?:
"We had some great conversations there about cable, land lines, monopolistic practices, the evolution of household communication technology, and a whole lot of good banter to boot." -- shaxper
The Coffee (and bananas) thread:
"Literally nothing other than coffee and bananas. For 27 pages! And yet, it was riveting. Never has so much taken so long to be said about so little. Legendary thread, IMHO." -- Phil Maurice
Classic Movies Discussion:
"Love the give and take, discovering others' favorites, and learning about everything from Charlie Chan to Westerns." -- Prince Hal
Nominees for The Uatu Award for Most Knowledgeable Member
Cei-U!:
"Really...does this one need any explanation. Our own working comics historian." -- Slam_Bradley
Rob Allen:
"Rob has displayed tremendous knowledge in a lot of areas in comicdom, especially with his thread on underground comics, and always has something cogent and thoughtful to add when he contributes to a thread. " -- mrp
mrp:
"His knowledge of many things, from the business side, to both older and newer stuff, is impressive." -- hondobrode
tolworthy:
"We don't see enough of him around here, but when he pops in, he always drops some serious knowledge, especially with regard to the Fantastic Four, a work he has toiled endlessly to prove is the Great American Novel. I always learn something from tolworthy's contributions, and I hope that will never change." -- shaxper
Scott Harris:
"he's pretty well rounded in general but I love his insight into slightly off beat titles like Crime Buster." -- thwhtguardian
Phil Maurice:
"whose knowledge of the Golden Age (witness how great his choices for the cover contest always are) is always welcome." -- Prince Hal
Dizzy D:
"Dizzy D impresses me with his expertise in a realm of comics I still know woefully little about, with my American-centric experiences. I appreciate his insight into all the comics made on the other side of the world." -- coke & comics
Nominees for The Best Review Thread
The Annotated Savage Sword of Conan:
"it is well written, show cogent analysis, is fairly objective, provides lots of samples of art and provokes a lot of conversation. There a lot of amazing review threads that deserve attention, and I'm sure a lot of them will get nominated; I wanted to make sure this one got some love." -- mrp
Slam Bradley Reads the Marvel Universe:
"Slam's reviews are well-written, incisive, and utterly untainted by nostalgia. I look forward to each new entry." -- Cei-U!
The Guide to Earth Two:
"Cei-U's Guide to Earth 2 is a wonder of scholarship we mere mortals are privileged to look upon. Talk about a guy who knows his stuff and how to present it!" -- coke & comics
Batman #300 and up:
"It may not have seen much activity lately, but it's always an interesting read and a place that fosters some really good debate." -- Confessor
Superman in the Post-Crisis Era:
"I nominate shax's Superman in the Post-Crisis era thread." -- Pharozonk
Star Wars at Marvel:
"I was torn on this one but ultimately I had to go with Confessors Star Wars at Marvel review thread" -- thwhtguardian
Garth Ennis' Punisher MAX:
"I'm not a fan of the Punisher, and I've never read a single one of these books, but his writing style was so engaging, concise, and informative that it absolutely kept me wanting to read more, and the little extras, like assembling a timeline, body count, and even a
medical record
were just pure icing on the cake. VERY fun." -- shaxper
Nominees for The Captain Jim Zimmerman Award for Best Overall Member Who Most Exemplifies the Spirit of the CCF
Roquefort Raider:
"I've never known him to be anything less than friendly, respectful of others, knowledgeable, funny and kindhearted. Plus, he always has something constructive and interesting to add to a discussion. As such, I think he's pretty much a model member of this friendliest of communities." -- Confessor
Hoosier X:
"he's the first one that pops into my mind as being an active contributor and I always enjoy his posts. Our community is enhanced by his contributions." -- hondobrode
Cei-U!:
"To me the heart and soul of this community is the heart and soul of the last one. We all knew this crazy experiment was working when Classic Comics Christmas came long. He's treated us to Lash House and the Guide to Earth-2, and I suspect his very presence brought over several others. Wherever Kurt went, was a place people could be confident that Classics Community would go." -- coke & comics
thwhtguardian:
"He offers a lot of varied contributions from the reviews of the Mignolaverse, to Batman X years ago, to insight on new comics. He is always positive and upbeat, and a voice of reason as a mod. His presence sets an example we should aspire to. " -- mrp
DE Sinclair:
"Not only is he a friendly, likable, and engaging member, as well as an integral part of the mod squad here, but I've always been impressed by how he handles tense situations, maintaing calm, optimism, and reason. I've even seen him in several situations where another member was giving him an unnecessarily hard time, and instead of responding with any sort of agitation, he just shrugged it off and kept on talking to the other party in a civil manner, completely unphased that he'd just been personally insulted. How many times has it been said that ours is one of the most respectful communities on the web? Well DE sets the bar for that kind of discourse." -- shaxper
Once you've reviewed the nominees and are ready to do so:
VOTE HERE