Post by Crimebuster on Jan 25, 2016 1:00:06 GMT -5
Valentine's Day is nearly upon us. Plus I'm really bored. So I'm starting a review thread of classic SIlver Age and Bronze Age romance comics.
Most of these will be DC, and frankly, I probably won't post in this thread very often. But I have more than a full short box of romance comics that I haven't read yet, so I figure I might as well post my thoughts as I go.
I'm just going to start right at the front of the box and read whatever it happens to be. Since the primary box is all DC stuff, the winning comic turns out to be...
Falling in Love #54

November, 1962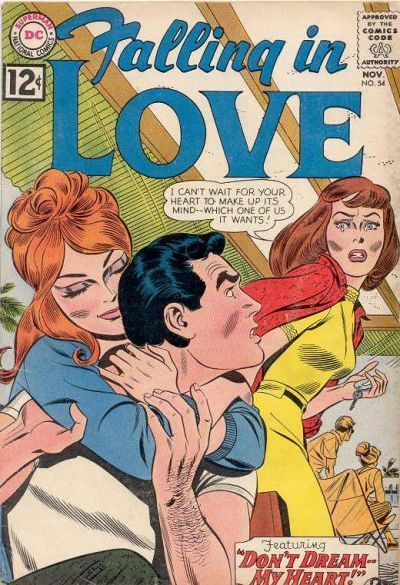 Story One:
An art model is in love with the instructor who uses her for his lessons. But he ignores her! Wracked with anguish, she dates one of his students, leading to misunderstanding and woe. And it also leads to this top notch panel: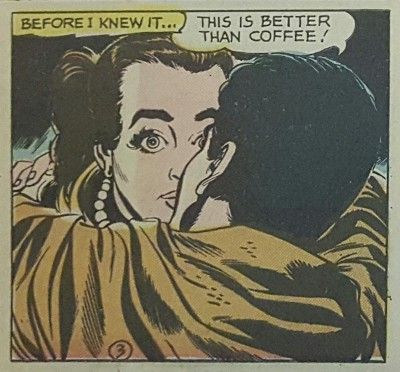 Heartbroken over the teacher's blindness to her feelings, she quits. He then hires her as a personal model for one of his own paintings, but she quits that too. When he asks what her deal is, she pitches a fit that involves making out with him. Then the lights go on in his head and he figures out what's what. Luckily, he loves her too! You dumb fools, so much wasted time! At least now that have the rest of their lives to make up for their mistake. THE END!
Story Two:
Holy crow, this one is a doozy. A gal named Mary starts seeing this hot guy all over town, staring at her. It's kind of exciting when it's not being wicked creepy. Finally, he introduces himself; his name is Curtis, and soon enough, they're in love! So much so that Mary is finally able to get past her secret heartbreak: not another boy, but rather the untimely death of her big sister three years earlier. Bolstered by Curtis's love, Mary finally gets the courage to look through her sister's belongings, and discovers something shocking: Curtis is actually John, her sister's fiance! She confronts him and he's like, yeah, I was following you around pretending to be a different guy, but now that I know you, I actually love you for yourself, not just because you look exactly like your dead sister who I was really in love with: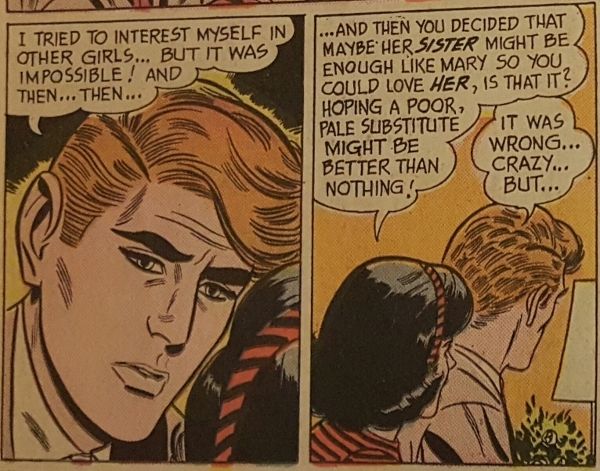 Mary, for her part, does not believe him. Good on you, Mary. He begs her for another chance, and she says... well, maybe someday she'll consider it. and that's THE END! Wow. Just wow.
Story Three:
Boy, I thought nothing could top the last story, but let's turn the page for a humdinger. Brenda is an aging movie star. She tries to get a role, but the producer won't give her the part, and he goes on a psychologically abusive rant about how she's a heartless monster who has never loved anyone, which he knows because he's in love with her and she never returned his affection. So she can go sit and spin because she's not a real woman at all. Confidence destroyed by this passive aggressive tirade, the emotionally devastated Brenda soon falls for a young wannabe actor. She goes right over the edge into full obsession mode: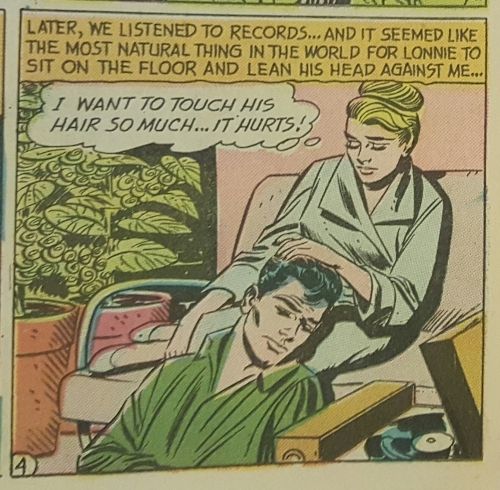 Unfortunately, it turns out he is just using her in order to meet the big shot producer. Publicly humiliated, Brenda crawls back to the producer, who says that now that she's had her heart broken, she's finally right for the part - and for the part she should have been playing all along, his lover. With no other options left, the cowed and defeated Brenda agrees. A tale of emotional abuse in three acts. THE END!!
Story Four:
Another lovelorn lady starts fantasizing about a dude in a travel poster and literally goes out of her mind:
She finally books a vacation to the destination on the poster hoping to meet him. Amazingly, she does, and they totally do it. But then dream turns to nightmare when she sees him with another woman, and in a fit of jealousy she leaves. Luckily for her, he tracks her down and true love wins out! THE END!!!
Notes:
There are no story credits for any of these stories. The cover, which is also used as the splash for the fourth story, is by Jazzy John Romita. I would swear on a stack of bibles that the first story has art from Mike Sekowsky, and that seems to be right according to the GCD. They have no writers listed, but the art credits are listed like so:
Story One: Mike Sekowsky and Mike Peppe (inks)
Story Two: Bill Draut
Story Three: Bernard Sachs
Story Four: Werner Roth and John Romita (inks)
I kinda dug the Werner Roth art; it had just a hint of formal stylization that made it interesting.
The stories were completely batshit nuts, of course, but I expect no less. That's why we read them, after all. Besides the stories, there were two other features: a two-page advice/lterr column by "Carol Andrews," where she gives advice like telling girls not to reveal their feelings to boys because boys like a sense of conquest and you need to maintain the mystery; and a one page fashion spread:
My Grade: B
. The second and third stories were real winners. That's the stuff!