Post by shaxper on Aug 4, 2016 23:33:20 GMT -5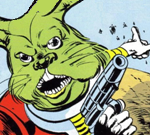 Actually, the British Invasion of beat groups in the early-to-mid '60s brought a lot of English slang like fab, gear, smashing, grotty and luv a duck into the everyday vocabulary of young American teens.
For the record, if you were to ever receive a Christmas card from me it would almost certainly read: "Have a cool yule and a gear new year!" But then, every day is 1968 for me.
(and, for what it's worth, I get most of those phrases. "Luv a duck" was new to me, though. It's more their constant usage throughout the story that occasionally makes me have to stop and actively translate)
It's an odd enough panel in and of itself, but when you consider that Kennedy had now been dead for three years and wasn't the current president, I think that makes this a little weirder still -- especially with the dude in the suit smiling behind them. This panel might have made more sense in the Peace Corps issue, as that was Kennedy's legacy, but this is the Treasury Department.
First off, I apologise for being an English man telling an American about his own social history, but I don't think that this panel is really that weird at all in the context of the times.
Although John F. Kennedy had already been dead 3 years when this comic came out, he had, in that time, become semi-cannonised by the tragic circumstances of his death. Remember, when this comic came out, Kennedy was still thought of by the public at large as having been a good and just president, who was brutally killed in cold blood by Lee Harvey Oswald alone...a lone nut. Conspiracy theories about a huge government cover up may well have been floated on the fringes of the liberal or counter-culture press by 1966, but this was still three years before New Orleans D.A. Jim Garrison very publicly shot holes through the Warren Commissions' official report into the president's assassination. It was only after that investigation and the media coverage it received that the conspiracy theorists really started going nuts on trying to fathom the circumstances of JFK's murder.
This comic was also a good few years before the murky, mucky details of Kennedy's private life had surfaced to sully his legacy.
So, in late 1966, JFK was still widely regarded as America's tragically murdered president...your saintly fallen leader...the assassinated king of Camelot. In particular, the young, hip, liberal middle-classes would have viewed him in this way. So, a group of swingin' kids like the Teen Titans would definitely have placed Kennedy on a pedestal in a way that they simply wouldn't have done with Lyndon B. Johnson, who was mired in the Vietnam War, along with bloody Civil Rights clashess and inner city riots domestically.
The Titans saluting JFK's image in this way might be a bit over-the-top in a comic booky way, but there's little doubt that the majority of teens who were reading the comic would've regarded JFK in a similarly reverential way.
Oh, I do understand all of that (though I appreciate the thoughtful explanation!). It's more that:
1. The salutes look a little too fascist
2. The dude smiling behind them breaks up the gravity of the situation
3. There is a current president that they are
not
saluting. That's just weird to me. "We'll do it!...for the dead president randomly pictured here in the Treasury Department (but not for the new guy)"
Yes, JFK captured the idealism of youth whereas LBJ represented the suspect establishment. Perhaps this panel is just a little too blunt about that?