Post by tarkintino on Oct 11, 2017 14:40:43 GMT -5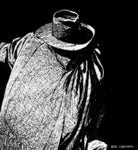 No offense taken, although you are mischaracterizing my position. I used
2001
to illustrate just how glaring his ideas were in a situation where it completely clashed with an established work/concept. The mishandling/hackwork from Kirby's
2001
typifies so much of his 1970s output, and in "adapting"
2001
, one can plainly see the "bigger is better"/"this is IT!"/"like nothing before!!" type of overblown creative tendencies. Take a look at the Kirby/2001 piece posted by Reptisaurus!--far from an isolated view on how wrong Kirby was for a film of that kind.
But I'm really mostyl interested in what I think are the best of his original creations, The Eternals, The New Gods, and to slightly lesser degree, OMAC. You're even making all kinds of assertions about his inner thoughts and feelings, saying he was full of himself, motivated by petty jealousy of younger writers, or something I don't quite follow ... it's all kind of bizarre, to be honest.
Comic artists and writers have egos. That's not breaking news, or a revelation to anyone who has seen some of these people in person or listened to their responses to questions. To that end, comic artists are notoriously aware of their status & place in the industry. In other words, yes, I'm saying he had an ego--not on the Bob Kane or Neal Adams level--but he was not the little man humbly scribbling out pics in a corner, either. Ego was there, which ties into my point from a few days ago: some creators--particularly when praised too much for their own good--adopt a kind of "I can do whatever I want" / "I AM great!" mentality with no ability to step outside of self to see excess or shortcomings. After the praise he received in the wake of leaving Marvel (the 1st time), its not a stretch to say any other success fueled his habit of repeating worn-out ideas, always quick to "go big" (as if that meant better) with content that clearly yelled out its "importance" (in consideration of reputation?) rather than actually being important.
I'm as big a Heavy Metal fan as the next person but much of it, one must recognise, is pretty adolescent, however beautifully drawn. And even the best stuff - Druillet's, for example - is I would say more poetically than intellectually inspired, not that I see that as a flaw in any way, myself. My point is simply that it isn't necessarily pitched at a higher intellectual or thematic level than Kirby's best.
My point about
Metal Hurlant
and the Warren magazines is that there was content as intellectually challenging if not more than Kirby's work. That did not mean
every
story contained within, but that Kirby was certainly not alone at a time when higher concept sci-fi had fully influenced comics of the 1970s.
The big contrast is more stylistic than conceptual. And I have no problem with readers who are simply turned off by Kirby's stylistic idiosyncrasies, whether his scripting or his art. I'm the same way myself with a lot of things: it might be the best-written story every put on paper, but if it's drawn by Jim Lee or one of the many artists I find indistinguishable from him, I'm probably not going to be able to get through it. Similarly, there are a lot of present-day tricks of dialogue and narration that just grate on my nerves and prevent me from enjoying a comic, even though I know I could be missing something otherwise worthwhile, beneath that off-putting surface.
I think your argument would be applicable if not for the fact Kirby's ideas are also in question, not just the delivery of said ideas with his brand of art.
If I ever get a scanner, I'd like to go through the entire New Gods/Fourth World stuff page by page and answer Simon Garth's question about how that work is more than just another good guys vs bad guys story, like any given superhero comic. But maybe I'll make a stab at it later without scans, though it would be nice to have the images to show what I'm talking about.
That would be interesting to see.