Post by badwolf on Jun 5, 2019 16:19:24 GMT -5
So I have decided to dig into the Alpha Flight Omnibus (by John Byrne, although some work by other creators from the same period is also included.) I've read almost all of the contents before, and most of it many times over. This may be my favorite Byrne work after his Fantastic Four. I'm going to nitpick right out of the gate and ask why they used the cover art from AF #1 for the cover of this book. All the other characters are a distraction, and without the word balloon, there's no context.
This would have been much better...
Or even this.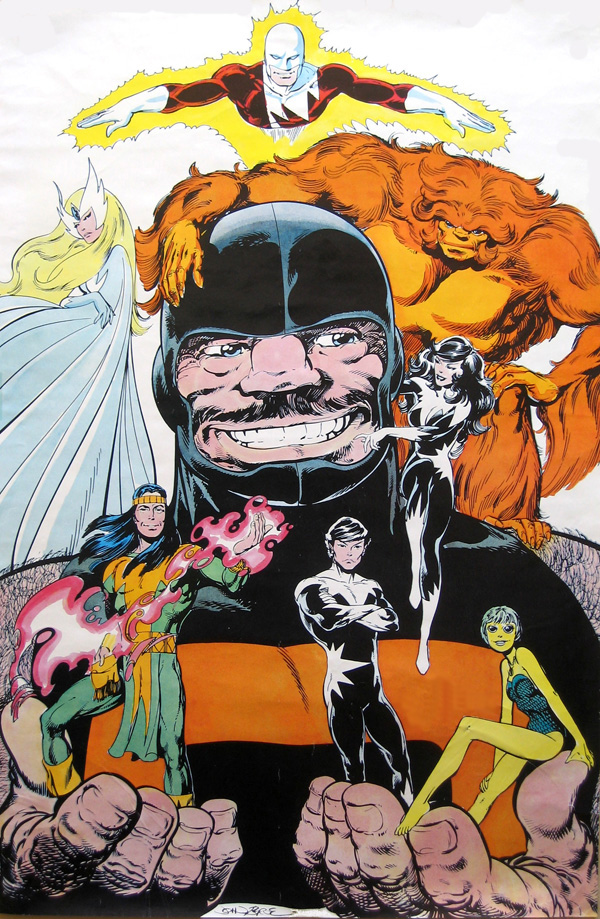 Ah well.

As everyone probably knows, Alpha Flight were introduced in the pages of the X-Men, with their de facto leader James MacDonald Hudson (then code-named Weapon Alpha) appearing first, in

X-Men #109
"Home Are The Heroes!"
Written by Chris Claremont, drawn by John Byrne and Terry Austin
The X-Men are returning home from preventing the mad Shi'ar emperor from destroying the universe with the M'krann crystal and settling it, hoping to relax. Former rebel and new empress Lilandra has come with them. We get a recap of recent events.

Jean's parents are trying to come to terms with her recent transformation into Phoenix. Storm tends to her neglected garden, Nightcrawler sets up a date to see a popular film, and Colossus writes a letter to his parents. Scott broods and Nightcrawler attempts to give him a reality check but is interrupted by Banshee.

Storm, Colossus, Banshee, and Moira McTaggart are going on a picnic, and Wolverine informs them he's going to tag along, but just so he can go hunting on his own, a statement that Storm grossly misinterprets. Meanwhile, someone is tracking him...
While Wolverine is off doing his thing, he is surprised by an old friend.
I don't know why he chose to come up through the ground, but I guess it makes for a dramatic entrance.
Hudson informs Wolverine that he's come to bring him back to Department H, where he got his start, but Wolverine reminds him that he resigned. A fight ensues.
The others' picnic is interrupted by a flying Wolverine, and they rush to his defense. During the battle, one of Hudson's energy blasts goes astray, wounding Moira, which enrages Banshee. S*** just got real. Hudson very quickly realizes he's not ready for this encounter, and disappears. Wolverine confirms that he and his attacker know each other, and tells them that things are going to get worse.
**
Weapon Alpha's battlesuit is, of course, meant to resemble the Canadian flag, but as a kid I just saw it as a sort of "explosion" design. I don't think I knew what Canada's flag looked like then, but even if I did, it might have still been too abstract to me.
In the flashback at the beginning of the issue, Corsair (of the spacefaring team the Starjammers) asks Jean to not tell Scott that he's Scott's father, a conversation which Storm overhears. By the time Scott finds out, a few years later, Jean will be dead, and Storm will bear the brunt of his anger.