Post by paulie on Dec 18, 2014 17:38:58 GMT -5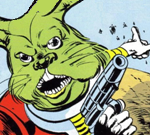 #7 - Batman: The Killing Joke
(March 1988)
When comics got all dark and gritty in the late '80s, it was
The Killing Joke
that was my gateway into all that. I had heard about these new "graphic novels" with mysterious titles like
Watchmen
and
The Dark Knight Returns
(although I wouldn't read either until around 1990 or so), but I hadn't actually read any of these new "mature" comic books. When I saw an advert for
The Killing Joke
in an early 1988 issue from DC, the crazed image of the joker and the accompanying blurb that promised "a shocking look at the terror and violence of insanity" (I'm paraphrasing here), meant that I had to get hold of this thing.
However, with this being a prestige format book, I knew that the one local newsagents shop that stocked American Marvels and DCs would never have it in. No, I was gonna have to go up to the big, bad city of London and enter an honest-to-goodness comic shop, if I wanted this graphic novel. I talked with my comic book collecting friends at school and they told me about a really cool comic shop called Paradise Alley that was hidden, appropriately enough, down a narrow alley off of Oxford Street.
So, some weeks or even a month or two later (my memory is a little hazy here) I made the journey up to London by train alone, from my hometown in Buckinghamshire. I was only 15 at the time and such an expedition up to "the big smoke" on my own was quite daunting and scarey. I dunno, maybe I was a bit of a sheltered kid. Anyway, I located the comic shop in question. It was cramped and small, but it was an Aladdin's cave of vintage U.S. comics and trading cards. Sure enough I found a copy of
The Killing Joke
and I also bought a couple of other old Marvels (more of them later), since that was all I could afford with my limited funds, made up of paper round money.
Getting home and reading the book, I was blown away by how good it was. Here was a level of complexity and maturity that I had never encountered in a comic book before. But more than that, it was also a seriously gripping story. One that hit you like a sledgehammer. It was violent -- shockingly so, actually -- and it was all exquisitely drawn by Brian Bolland. This was like nothing I had ever read before. The ending in particularly made a profound impression on me.
The Killing Joke
immediately became my favourite comic book and, although it has slipped down from that high pedestal in the years since, it's still an amazingly well written, well drawn and well executed graphic novel. And it's still one of my favourite comics ever.
What Confessor said. I never have exactly looked to DC for continuity so yes... a well-written and engrossing, Batman- Joker story. And I totally understand why people are outraged about the ambiguous ending and what happened to the Gordon's. But as a standalone issue I still love it.