Post by Arthur Gordon Scratch on Aug 10, 2017 10:45:55 GMT -5
The first time I ever encountered the new "superstar" of comic book writing was in a little Vertigo anthology
The story he crafted with
Tom Fowler
was quite good actually, just enough that I remembered his named for future encounters. He was then asigned a run on hte highly popular
Grayson
book (highly popular because of what he did with it), opening his run with the last Nightwing issue of the New52 incarnation. I read the first issue after I heard about the hype. It was alright, but one can only take into his psyche that many superhero books

I still consider eventually reading the full run, but I guess life has other plans for me. Next was much more impressive : "Black Death in America", a short story crafted with the great
Jean Paul Leon
for another Vertigo anhtology -
Vertigo Quarterly CMYK
.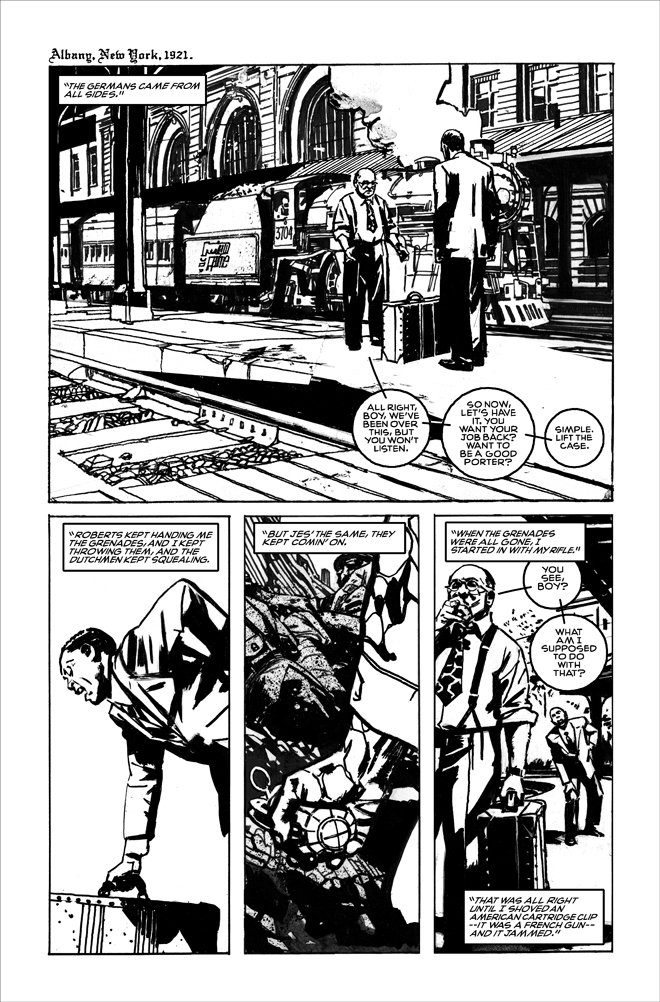 Next was his
Omega Men
maxi-series. I must confess I was interested, but upon reading the first issue, I felt way too lost, I barely understood anything about it, or maybe oo much. Anyhow, despite the strong structure of hte narration, I gave it a pass as well.
Then came
The Vision
, another maxi-series but this time for Marvel. the hype was so gigantic that I forced myself to see what the deal was. The art was nice, the story alrigt, but far from reaching the heights of Watchmen as many critics claimed it to be... I kept reading it online though, but ultimatly gave up on it after its 9t or 10th issue, feeling that it wasn't surprising anymore.
Around the same time came
Sheriff of babylon
(originaly titled Sheriff of Baghdad). As this was a Vertigo maxi series, I felt that his editor there brought the best of him, so I tried it as well. And here was where I was sold! This series is amazing, innovative on the storytelling side of things, and beautifull to look at. There are multiple points of vue, and you're constantly surprised by the turn of events. Then again, I think I chose wisely since King is a former CIA opperative based in Irak.
After that, he got assigned a little crossover I know barely anything about appart that I hear it was actually quite clever (
Robin War
).
And then came his major break : the
rebirth Batman
series one year ago. As it stands, it seems highly fascinating for many readers including here, but ultimately failing. I hear its first arc was quite a letdown, but that things stepped up shortly afterwards, but that pacing is a huge issue in htis run, despite, cool ideas.
Yesterday came out the first issue of his new maxi-series -
Miracle Man
- from the same creative team as Sherif Of Babylon, supposedly closer in spirit with his Vision series, but also supposedly more ambitious.
I feel this will be another series of post-war trauma, but within the super hero trope, which is fine by me, but I don't plan to jump into this before getting more feedback, even if I expect it to be good.
What do you think of him, what have you read of his and what did you like or dislike?