Post by shaxper on Feb 14, 2016 10:29:16 GMT -5
All Things
Space Usagi
!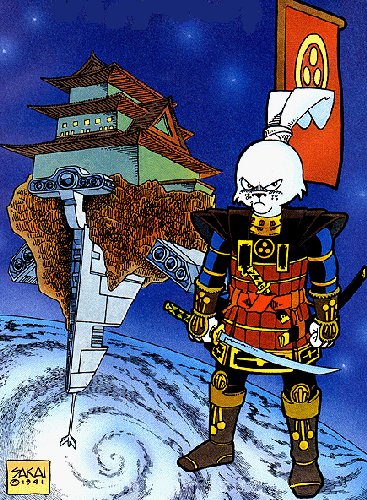 So I'm re-reading the series right now and am convinced, more than ever, that it's my favorite Usagi series. It lacks much of the superior artistry and balance that comes from a master honing his craft over thirty continues years of publication, but does
so
much right with the limited time it's given!
So I wanted to create a space just for the discussion of Space Usagi.
Thoughts on Vol. 1:
I just re-read vol. 1 #1-3 and loved it more than ever. I love how it begins with a premise and world largely new (though there are so many elements of Usagi's life that are there, just...differently) but then unexpectedly veers towards the very familiar by the close with the twist ending to #3! I love the action, the visual concepts of a futuristic world based upon feudal Japan (almost makes me wonder if Space Usagi will prove to be as much an imaginary story told by the real Usagi as Senso was an imaginary story told by Space Usagi!), and the characterization of Space Usagi, who is, at heart, exactly like his ancestor, yet shaped differently by very different life events.
That last part particularly intrigues me. Both Usagis lost their lords, but this one managed to save the offspring, and that necessarily gives his life a different meaning afterward. Usagi has always had an amazing relationship with children -- it was almost his
karma
for a later ancestor (or perhaps reincarnation) to be able to reconcile the loss of his lord in this way.
It's interesting too that, while this makes Space Usagi's world a bit cheerier and brighter than that of the original Usagi, he's also about to go on and face much more profound losses than his ancestor in the next volumes. An interesting contrast.
So, throughout all of history, is Usagi just fated to always fight for the underdog? Maybe he's an agent of
karma
, and whenever a profound wrong is committed, fate finds a way for a Usagi to be there.
Two other notes:
1. It did not occur to me in issues #1 and #2 that this Usagi didn't have the scar. I love how that was done meaningfully in #3 (though by the traitor instead of the overarching bad guy this time). I'm not sure I was aware the arc over Usagi's eye was a scar until "Return of Adachi Plain" (which had not yet been published by this point), as Stan often also uses it as an expressive eyebrow. It makes me wonder if Stan had always intended for it to be a scar and if, perhaps, this was most fans' first awareness that it was a scar. I'm curious to hear others' thoughts.
2. Can someone explain to me how Space Usagi came to be? I'd always assumed it was just a whim of Stan's, but more recently I've learned about the cartoon pilot
(I cannot find a date for when it was produced), and then there's the mystery of Space Usagi being published by Mirage while Usagi was still at Fantagraph. Was this all originally just a push to get Usagi to be the next Teenage Mutant Ninja Turtles? Ever since seeing the pilot, I've regretted that I didn't have that cartoon and an ensuing toyline as part of my childhood. It would have been amazing, especially as I was both a TMNT nut and a sci-fi geek. I adored Bucky O'Hare and the Toad Wars, but I would have enjoyed
this
rabbit and his sci-fi world a whole lot more.
Okay, I've talked enough. Feel free to respond to my thoughts or throw out your own about Space Usagi!