Post by Prince Hal on Sept 7, 2016 13:29:03 GMT -5
Total self-indulgence here, but if anyone's going to get anything out of what I remember and love about comics, it would be the residents of CCF-burg. Hope you enjoy, but as they say, your mileage may vary.
A Comic Lover's Memories
Prelude


When I look at the Newsstand feature at Mike's Amazing World of Comics (a daily three cheers to Mike!), I am inevitably immersed in vivid memories as I scan the covers. (As I've said before, my visits to Mike's Newsstand are like Proust taking his bite of that petite madeleine I am immediately transported to moments in time that I otherwise would not recall.)
And despite over 50 years of comic reading and the thousands upon thousands of comics I have accumulated over the years, I still discover comics on Mike's Newsstand that I know I never saw way back when. Granted, time plays tricks on all of us, and who-knows-how-many memories have stolen away from me, but I am still delighted when I see comics that I've either forgotten catching sight of or that just never showed up in my little town.
What I do remember is that most of the comics that filled the racks of the three most reliable "candy stores" (the Iron Age versions of today's LCS) in town – Al's, Cohen's and the Paramount – were DC comics. (I hardly ever saw a Marvel comic until a friend and I split the cost of a copy of the
FF Annual
#3 in the summer of 1965 to keep in our backyard tent hangout, but even after that, Marvels might as well have been put out by Hen's Teeth Publications. The big change there happened when Marvel added the new titles in early 1968.)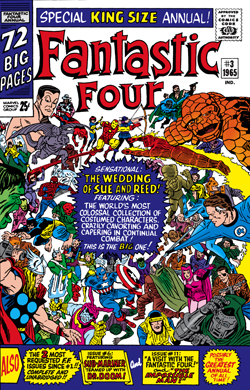 What a panoply of power!
Most of the DC's were from what would eventually be called the Superman Family titles:
Action
and
Adventure
;
"Louis" Lane
(as one of my friends insisted on calling her) and
Jimmy Olsen
;
Superman
and
Superboy
; and
World's Finest
. You could usually find
Batman
, though not always
Detective
. Occasionally a
JLA
would make it through, and
Our Army at War
seemed a fairly regular visitor, but outside of those, it was hit or miss.
And mostly it was miss.
Thus, my comics-fever dreams were filled with the names of books I only knew of from the house ads in the paltry few DC comics that made it our local candy stores:
Sea Devils! Showcase! Tomahawk! Mystery in Space!

But because most of the ads I saw were in Weisinger books, they were usually flogging other Weisinger titles. Those "Coming Super-Attractions!" triptychs were highlights themselves, thanks to the graceful beauty of Ira Schnapp's elegant lettering. For excitement and urgency, these mini-masterpieces rivaled the previews you'd see at the end of each chapter of the cliffhanger serials Officer Joe Bolton would show every afternoon on "The 3 Stooges Fun House" [
sic
] on WPIX, Channel 11.
"Hi, Officer Joe!"
Once in a while, I got to see a couple of issues of the titles I'd see in other ads, notably
Green Lantern
and
Justice League
, when I'd visit one set of my many cousins in Jersey City. One of those cousins was a little older and he must have been the one who bought those, because I found them a bit advanced for me when I tried to read them. "Weisinger-Science" was always much easier to grasp than what years later I realized was "Schwartz-Science."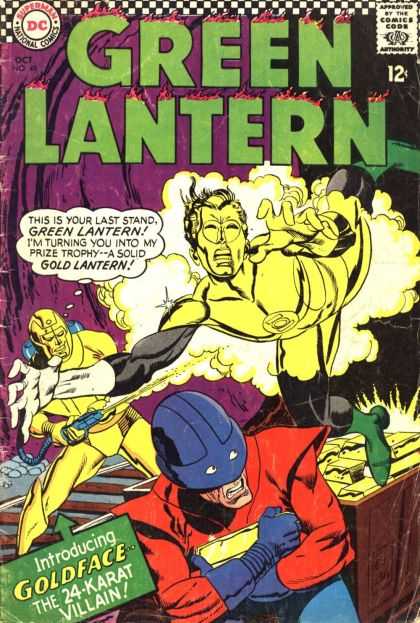 T
wo I remember from Bobby's house. (And yes, if you're keeping track, that GL cover is one I entered into the cover contest a couple of weeks ago; I thought of it immediately because of how vivid a memory I have of seeing it at my cousin's.

Next: I see some different comics at last!