Post by shaxper on Nov 8, 2016 21:28:17 GMT -5
While we're waiting on one set of election results, here's another

Point system:
Week 1
vote = 1 point
Week 2
vote = 2 points
Week 3
vote = 3 points
Week 4
vote = 4 points
Week 5
vote = 5 points
So let's rank the CCF's Top Classic Comic Horror Characters of All Time...
1. Dracula (Marvel): 15 points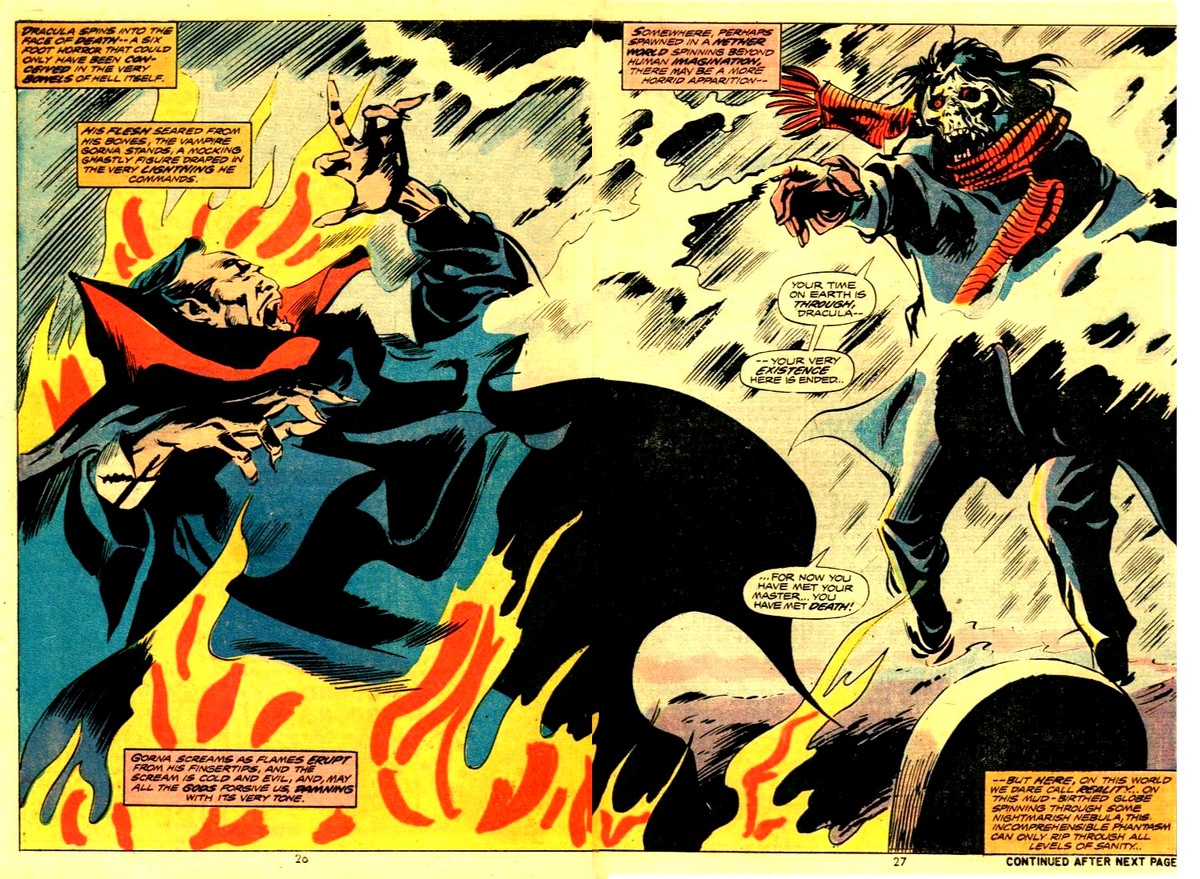 Interestingly enough, Marv Wolfman and Gene Colan's masterpiece topped no-one's list and only made the #2 spot for one participant, but he dominated the bottom half of enough lists to climb to the #1 spot.
2. The Spectre: 10 points
Some voted for the Ostrander/Mandrake version, some for the Fleischer/Aparo version, and even Doug Moench's run got mentioned, but there was no love for the Golden or Silver Age versions.
3. Three-Way Tie: Man-Thing, Swamp Thing, and Werewolf by Night: 9 points
Bronze Age awesomeness for the tie, as each vote cast was specifically for the mid-1970s versions of these three characters.
4. Ghost Rider: 8 points
Bronze Age Marvel is really killing it on this list...
5. Morbius, The Living Vampire: 7 points
Another winner that picked up most of his votes towards the bottom of participants' lists.
The Runner Ups:
The Nocturnals 6
The Confessor 5
Doctor Spektor 5
Dormammu 5
Hook Jaw 5
John Constantine 5
Shuma Gorath 5
The Addams Family 4
Lord Andrew Bennett (I...Vampire) 4
Baron Winters 4
Green Goblin 4
Madame Xanadu 4
The Phantom Stranger 4
Simon Garth 4
Solomon Kane 4
Cain and Abel 3
Desperadoes 3
Diane Belmont 3
Doctor Strange 3
Evil Ernie 3
Jennifer Kale 3
Monster (Uncle Terry) 3
Satana 3
The Alien (Alien) 2
Beasts of Burdenis 2
The Darkhold 2
Death (War is Hell) 2
Devilman (Go Nagai) 2
Fantomah, Mystery Woman of the Jungle 2
Frankenstein (Grant Morrison) 2
Hannibal King 2
Hellboy 2
Stig (Stig's Inferno) 2
Vampirella 2
Creature Commandos 1
The Demon (Kirby) 1
Dr. Archaeus 1
Flesh (2000 AD) 1
Frankenstein (Prize Comics)
Horrilor (Grim Wit) 1
Judge Death 1
Juno (Marvel Dracula) 1
Lilith, Daughter of Dracula 1
N'Kantu The Living Mummy 1
Skeletor (Masters of the Universe) 1
Ulysses Bloodstone, Monster Hunter 1
The Witches (The Witching Hour) 1
It really does seem that if you were a horror character with your own Marvel color comic in the mid 1970s, you were bound to top this year's list. But the results get more interesting down-list with the runner-ups. I saw quite a few choices that I'd never heard of before and am now excited to check out. And, at the end of the day, isn't that always the best part of these events and of this community in general?
Thanks again to those of you who participated and made this contest all the richer for your contributions!
Up next, the 2016 CCF Classic Comics Christmas...