Post by Crimebuster on Aug 9, 2014 21:56:24 GMT -5
This is the thread where we show off our signed stuff and tell stories about meeting the great creators who made classic comics possible.
This weekend, I attended Boston Comic Con and got a metric ton of stuff signed. I'm not the most talkative person when it comes to meeting creators, but it was still fun, especially surprising the creators with offbeat stuff for them to sign, which I did several times.
Here are the stories of my signed comics from this show.
The first table I stopped at was shared by Sergio Aragones and Stan Sakai. I tried to explain to Sergio the importance of the totally beat up copy of Groo #1 I had him sign; I bought it off the rack when I was 12, and for the next ten years, every time I bought an issue of Groo, after I read it my dad would take it and read it himself. So this ragged old copy means a lot to me. I'm not sure he entirely understood what I was babbling, but that's fine. He was very nice and as you can see, he doodled a little Groo head on the cover for me. Stan Sakai also drew little Usagi heads on all the covers. I wanted to support Stan, given the medical issues his family has faced, so I bought one of his sketchbooks and also dnated to a Japanese American museum fund he was promoting at his table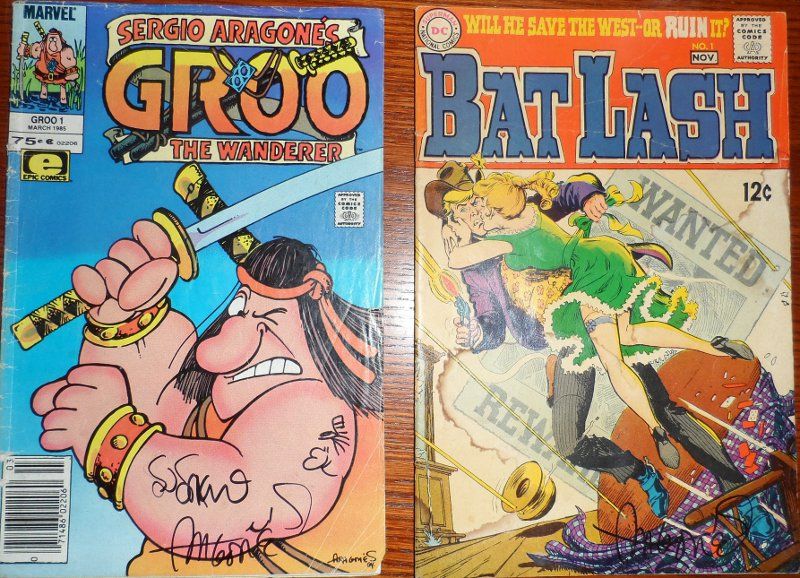 Ramon Perez is an artist I'm not super familiar with, but he has been doing some variant covers for Archie that I have quite liked, particularly the "Life Magazine" variant for Life with Archie #36. I ended up paying him to sketch Archie as the Winter Solider on a blank (which I showed off in the convention thread). After getting his signature, I went over to Dan Parent's booth and had him sign Archie #656 as well (Dan did the story inside). Dan also signed several issues I bought at the con, but unfortunately, the marker he was using kinda sucked, and it ended up smearing on just about all the covers. One of them is basically just a big shapeless ink blob. That's too bad, but Dan is a cool guy: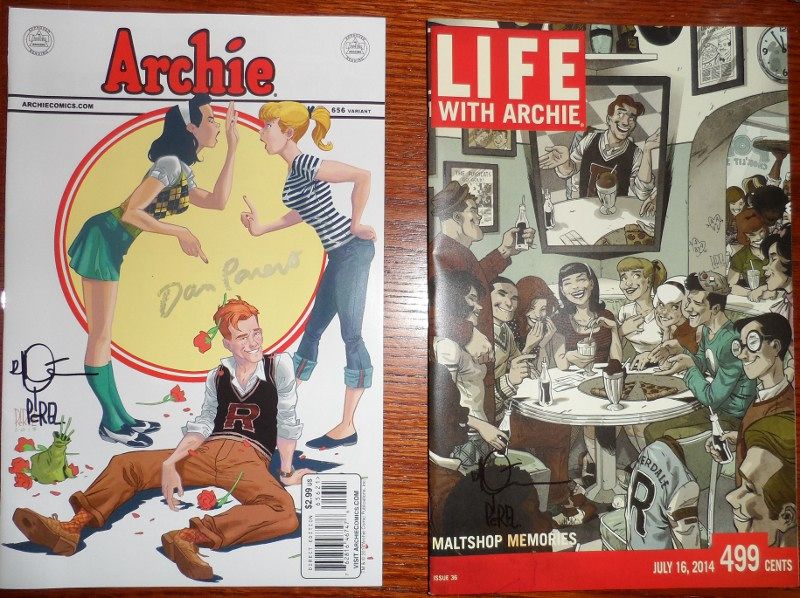 Geof Isherwood is a bit of a chatty Cathy. I'm not sure if maybe he was just excited that someone stopped by his booth (which is probably quite uncharitable of me to suggest), but he talked quite a lot about all sorts of stuff. I tried to excuse myself a few times before finally leaving. Clearly, he is a more friendly person than I am.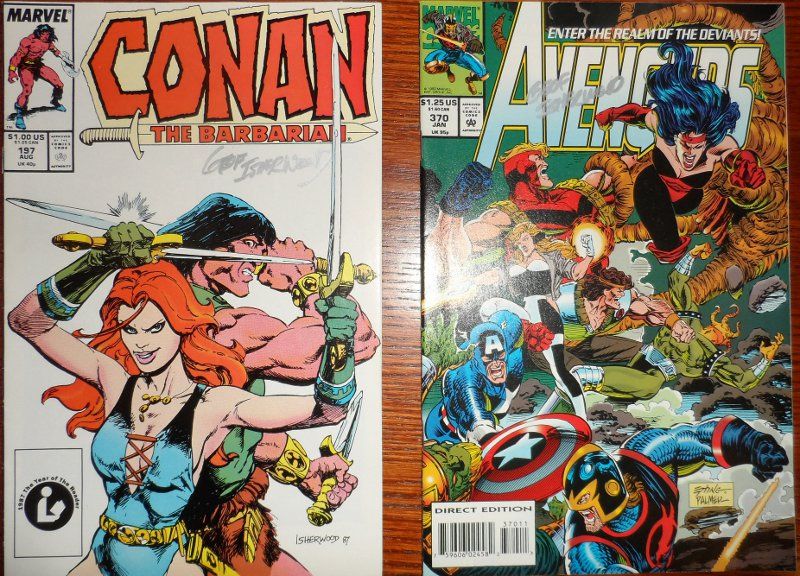 One thing Geof Isherwood mentioned is that he had to lobby the Conan editors to include Red Sonja in some stories. He also mentioned that he is Facebook friends with Mary Wilshire, who was the creative force behind the second Red Sonja series, in the 1980's. When I went to Gail Simone's booth to have her sign my Red Sonja #1, I asked if Mary Wilshire had contributed anything to the Red Sonja Legends series, which is like an anthology of Red Sonja stuff by lots of creators, most of whom are women.
To my surprise, Gail wasn't familiar with Mary Wilshire. I explained who she was and Gail seemed very interested; she said that people had been telling her she was the first woman to write Red Sonja, but she hadn't believed it. She said she'd look into Mary, so hopefully she does and that leads to Mary contributing to Red Sonja again.
I actually visited Gail's booth both days. To my surprise, on Friday, there was nobody at all at her booth; she was just standing there looking around, waiting for something to do. Saturday, though, she had a pretty good line, which I think is as it should be.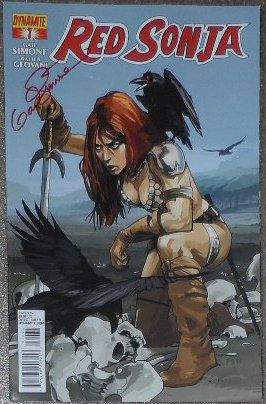 You'll notice that Wonder Woman #600 is signed by Amanda Conner. Amanda was co-signing alongside her husband, Jimmy Palmiotti, who finally came to the show after bailing the last two years in a row. Apparently they are doing the current Harley Quinn series, which as you might expect is big with the Comic Con crowd (i.e. cosplayers). As a result, I had to get a ticket for them.
When I did get to see them, Amanda was a bit surprised to see Solo Avengers #12. My one rule for getting sigs is that if the creator worked on anything Avengers related, I always have them sign it. After signing so much stuff she had collaborated on with her husband, she passed it to him to sign and he shoved it away, saying "Don't blame me for that!"
Jimmy also asked where I had met Paul Gulacy, who had also signed my Jonah Hex #42. I told him last year in Boston. Jimmy lamented that he hadn't seen Paul in several years, to which I did not say, "well, if you had shown up last year you would have!"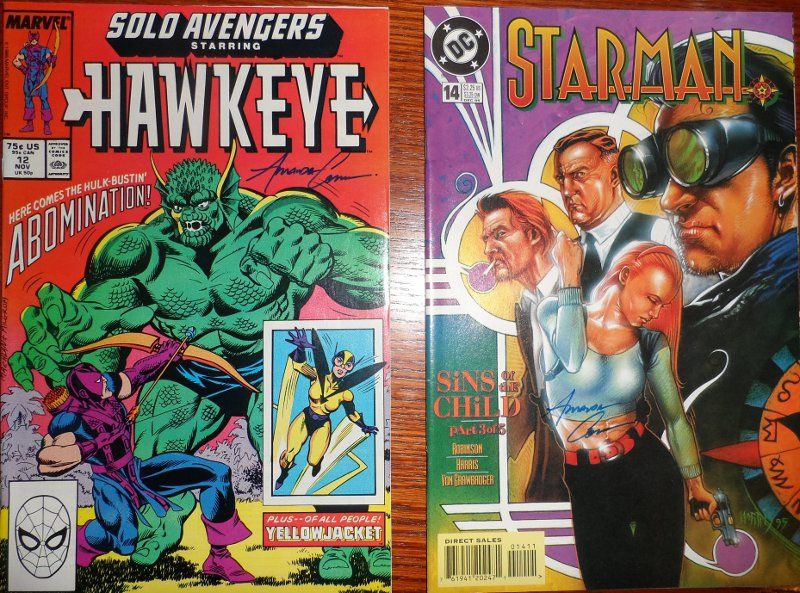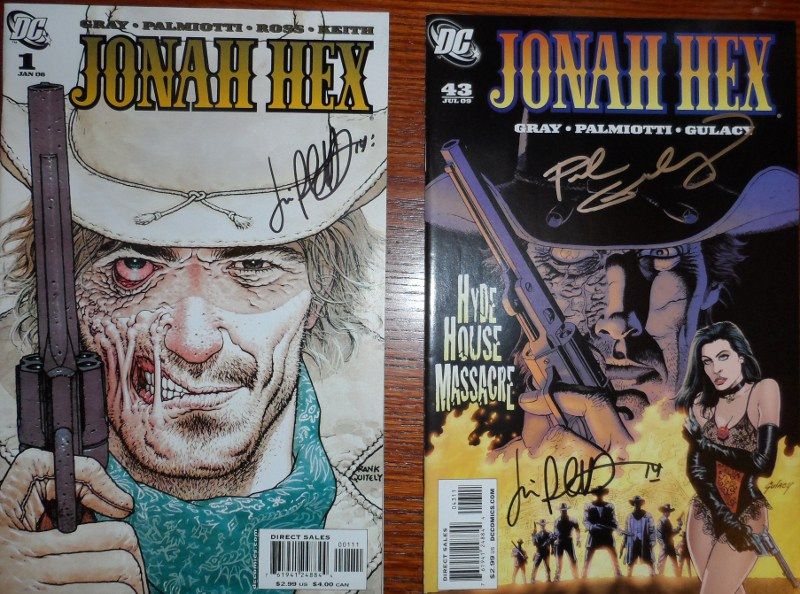 Another duo I had to get a ticket for was Scott Snyder and Greg Capullo. Apparently they are working on some comic called "Batman," which is apparently popular. I felt a little embarrassed when I got to the front of the line, as Scott Snyder was happily waiting to sign something - except, I don't have anything by him. Instead, I only had three old issues of Quasar for Greg to sign. Greg seemed surprised to see them; I'm guessing he had seen a constant stream of Batman junk all day.
As I was leaving, I head Scott ask Greg who was writing Quasar when Greg was on it, and Greg said, "Uh, I think it might have been Mark Gruenwald?" Of course it was Mark Gruenwald! He's the only writer the comic ever had! And you worked with him for TWO YEARS! C'mon, bro.
Tim Bradstreet was a gregarious fellow, which has its pros and cons. The pros are, if you want to talk to him, you can and he will happily chat you up. The cons are, other people do this while you're waiting in line. So even though the line was short, I had to wait awhile (more on this in a second). Not a big deal, though. I wish I had more to talk about with him, as he seemed like a cool guy, but we pretty much only discussed the fact that he wanted to do more Jonah Hex covers, but the series has been cancelled. Of course, it's been like 8 years since he did this cover, so I'm not sure why they didn't give him more work in the meantime if he wanted to do it. Too late now, though.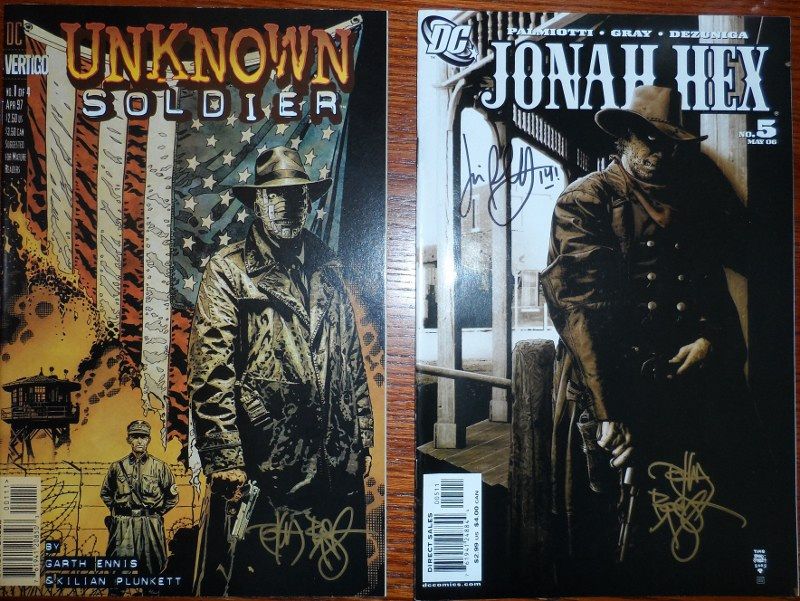 Speaking of waiting in a short line for a long, long time. Mark Texeira, as I have mentioned after previous shows, is very cool in that he always does a little head sketch on the cover. This year, he was putting even more time into the head sketches. Now, he's also the only person at this year's show that I visited who was charging for a signature, which is a great trend, as recent shows I've seen more and more people charging more and more money. And Mark only asks for a buck, so it's really nothing.
The only problem is that, well, there was a guy in front of me in line with a big stack of books. Which is annoying enough when someone is just getting signatures (more on this later as well), but Mark was doing sketches on each one as well. This one dude probably took over a half an hour for Mark to sign stuff for. Multiple copies of some books, too. In the guy's defense, he did seem embarrassed about it and at one point told Mark just to sign the rest and skip the sketches. But Mark apparently really enjoys doing the little sketches, plus since he is charging money, he feels like he needs to earn that dollar.
The upshot is, I was in line for Mark for over 45 minutes even though there were only three people ahead of me. When I did get to him, though, it was worth the wait if only because I stumped him by bringing World's Finest #300. He was like, "I knew I drew Batman and Superman in something back then!" But he had forgotten what comic it was in, so he had to look through it to check his art and memorize the issue number. That was cool.
He also drew a totally badass Conan head sketch on Conan #229. Just a few little pen strokes, but he nailed it.
Another person that was a) happy to see something obscure and b) doing cool head sketches was Jeff Smith. He was really happy to see the variant cover from Avengers Forever #4, and some of his booth people had never seen it before, so they came over to take a look. This also resulted in me getting something probably relatively rare - a Jeff Smith head sketch of Iron Man! The Bone sketch is also awesome.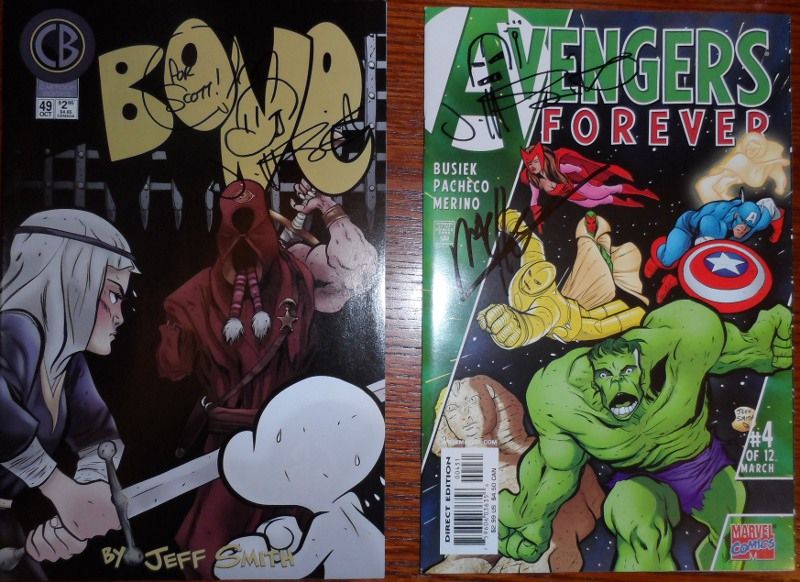 And Adam Kubert was also pretty surprised when I pulled out Warlord #95 and #100. Obviously, most people were bringing him Wolverine stuff or whatever. He said, "Warlord, wow. This [#95] was my first real assignment. And it's terrible. And this [#100] was my second assignment. And it's a little better. But still terrible."
My friend Stan goes, "Good job, Scott. Way to bring up the bad memories." Which prompts Adam to chime in, "Yeah, Scott, you asshole!"
He seemed like a really cool guy. I'm usually not a big fan of his work - though I like it more than Andy's - but he was very laid back and pleasant. He also had told a guy in line in front of us to wait to the side, because the guy had brought a stack of like 60 issues for Adam to sign. So instead of making everyone wait, Adam was making the guy wait for everyone else. I very much appreciated this.
On a side note, I later attended the Kubert School presentation and it was really itneresting and informative. Most importantly, I finally learned the correct way to say Kubert: it's pronounced Q-bert. Mystery solved.
Finally, I got these signed by Mark Waid. Not much story behind it, though I brought these specifically because Ron Garney was also supposed to be in attendance, but bailed at the last second. Mark was very friendly and talkative, as usual, but there was some German fan at the table talking his ear off about stuff, so I didn't really get a chance to say anything.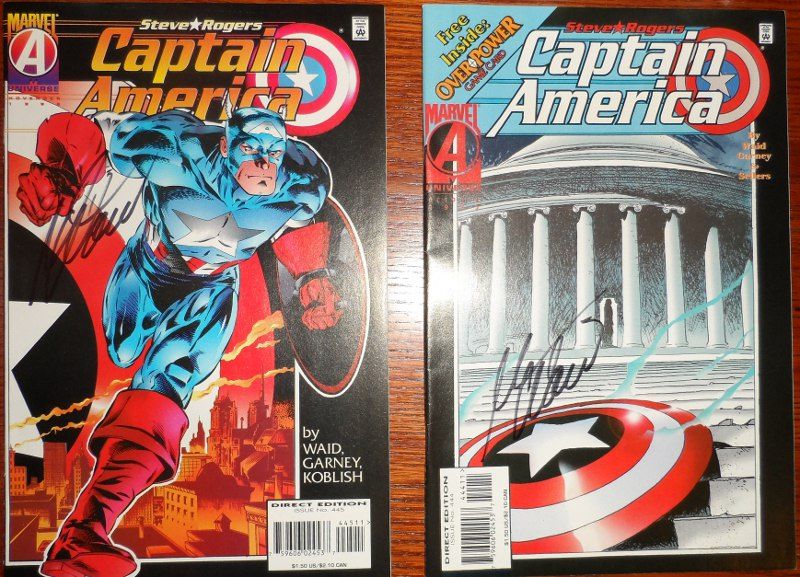 [/i]