Post by codystarbuck on Jul 12, 2018 16:51:04 GMT -5
Between 1969 and 1971 Marvel introduced a new superhero team; or rather, they made a non-introduction of a non-team. Unlike the FF, it was not a group from the start. Like the Avengers, it was made up of individuals, brought together by some menace. Unlike the Avengers, most of the members weren't big stars and only one or two ever had an ongoing series at the same time as they appeared together (as things progressed). I am, of course, talking about The Dynamic Defenders.......
I think that is Doctor Strange, on the right....
The Defenders grew out of necessity, as Roy Thomas had started a story in Dr Strange #183, and had the book cancelled out from under him. He continued the story in the other books he was writing: The Sub-Mariner (#22) and The Incredible Hulk (#126). It proved popular enough he gave them another go 'round, in Subby #34-35, before giving them a group tryout in Marvel feature #1. The rest was non-history!
Dr Strange #183





Creative Team:
Roy Thomas-writer, Gene Colan-art, Tom Palmer-embellishment, Jean Izzo-letters, Stan Lee-Grand Poobah
Synopsis:
Thanks to Eternity, in the previous couple of issues, Dr Strange is no longer Stephen Strange. he had revealed himself to the world, then Eternity changed him to Stephen Saunders, bending reality to fit. he has received a telegram from an old friend, Kenneth Ward, asking for his help. He goes to visit and finds a weakened man, guarded and cared for by three others. He tells Strange of a journey to the Himalayas, where he found strange idols and perils. The three warders are revealed to be servants of the Undying Ones, powerful beings from other worlds. He is too late to save his friend; but, Dr Strange goes off to protect the world from the Undying Ones.
Thoughts:
This is from the era where Dr Strange wore a mask and was more like a superhero. The book was always a bit more of a cult favorite than a big seller and it's not surprising it was cancelled. magic is a tricky gimmick to sustain, especially in a Code-approved world. What it had working for it was Gene Colan's dynamic and moody art, which gave it a nice atmosphere, while Roy Thomas indulged in a bit of pulpy fun. Here, he is doing his pastiche of HP Lovecraft and his Cthulu mythos. Ward has been to hidden lands and seen strange things, unearthing ancient horrors. Thomas and Colan are perfect for this sort of thing and it is all misty and creepy, with Colan's Dutch angles adding to the unbalanced events. The early part of the story is wasted on recapping Dr Strange's name situation and a lot of melodramatic over-emoting. That kind of thing could be off-putting to the larger audience. As it was, the book was cancelled, while Dr Strange was headed off into the night. So, Roy moved the story elsewhere...
Sub-Mariner #22





Creative Team:
Roy Thomas-writer, Marie Severin-art, Johnny Craig-inks, Artie Simek-inks, Stan-Most Exalted One
Synopsis:
Subby has returned to Atlantis, after aliens captured him and operated on him, closing his gills and making him a pure air-breather. A scientist will restore his ability to breathe under water. While under anaesthetic., he recalls what happened, then gets a summons about an ancient idol. He wakes up and crashes out of his oxygen chamber, swimming his way to Boston, where he grabs some threads. He comes to Kenneth Ward's house and meets a young woman. He is attacked by a demon and finds the girl out cold. Investigations lead him to and old cemetary, where the grave of a judge from the Boston Witch Trials (Salem must have asked for a change of venue) and finds the missing idol. Dr Strange turns up, reveals the girl is a demon and the idol is for the Nameless One. Strange briefs Namor, then they discover that the cat the girl had is also a demon and the Nameless One gets released. The duo shove them back across the dimensional rift, then Strange sends Subby back.
Thoughts:
This second chapter is far less effective than the first. In fact, it's kind of repetitive. It also seems weird that Strange would summon Subby, then dump him when they get the Nameless One back on the other side. It's clear, at this stage, that a team was not the plan. The story then moves to the Hulk...
Incredible Hulk #126




Creative Team:
Roy Thomas-writer, Herb Trimpe-artist, Artie Simek-letterer, Stan-Supreme Dictator for Life
Synopsis:
The Hulk recently faced the Absorbing Man and is now unconscious, as Bruce Banner. he is found by a young couple, Jack and Barbara, and taken to a house on the hill. There, their boss, Van Nyborg, has them bit him in a room and we get dialogue that suggests these guys are into the occult. Next thing you know, everyone is dressed up and Van Nyborg looks like a wizard, ordering Barbara to give Bruce the Vapors of Valtorr (most likely via the Bong of Chong). Bruce is sent spinning and ends up in the Undying Ones' dimension, where Strange is a captive of the Nameless One. He sicks his champion Night-Crawler (not Kurt Wagner) on him; but, the Hulk doesn't appear. Barbara objects to things and Van Nyborg has her dumped through the portal, where Night-Crawler grabs her. Banner Hulks out(Whatcha gonna do when Hulkamania runs wild on you?) Night-Crawler responds with his Scepter of Shadow (He's got a foreign object, ref!) and turns the fight into a Lights Out Match. Hulk stumbles around and gets knocked off the floating rock; but, grabs a stalactite, which he punches, releasing light (somehow). Barbara hurls a rock and smashes the scepter's orb (We just can't have nice things!). He turns all Macho Man on Miss Elizabeth....er, Barbara, when the Hulkster comes to the rescue. Night-Crawler hits Hulk with a sonic "Ooooooh, yeeeaaahhhh!"; and, before he can snap into a Slim Jim, the Hulk claps his hands and hits him with a concussion wave. It rips up Night-Crawler's rocks and they end up on Dr Strange's prison. Night-Crawler turns babyface and attacks Bobby Heenan....er, the Nameless One and they fall into his realm. Strange returns Hulk and Barbara to their realm, then takes Hulk to the Sanctum for some vitamins and payers. Strange gets Banner some clothes, then heads off to find a new life, away from Dr Strange. Banner goes looking for his backpack and to thumb a ride, before McGee shows up.
Thoughts:
Meh.....Really kind of anti-climactic. What started out as a Lovecraft pastiche ends as Hulk smashing some goon. It really doesn't hold together as a whole story. Whatever Roy had planned got lost in these other titles, with their own events to serve. Also, Trimpe isn't Colan, when it comes to mystical stuff. he's fine with the smashing; but, not the more subtle stuff. Jack and Barbara will return and be major components of the Defenders.
Roy went non-team again, a little further down the road and had Subby summon some folks to help him out...
Sub-Mariner #34-35





Creative Team:
Roy Thomas-writer, Sal Buscema-artist, Jim Mooney-inker, Artie Simek-letterer, Stan Lee-President and First Tiger
Synopsis:
The Hulk comes ashore on a Carribbean Beach and launches his own one-many Bay Of Pigs Invasion....
Ele Jefe de San Pablo tells the idiotas that they have angered the Hulk, when he just "Vanted to be alone!" Subby is watching via a monitor and sees the Hulk in action and reveals that San Pablo is building a weather-control experiment that endangers everyone. He doesn't like bringing in the Hulk, but, then sees that Silver Surfer is looking for some waves. Subby interupts him and he also goes all Garbo. They fight and Subby proves to have the cooler head (There's a switch!). He tells Surfer about the weather device and they head off together. Hulk finds a ruined temple and adopts it as his home, until Surfer and Subby fly too near and he attacks. Hulk smash, Imperious Rex, Cowabunga and the fight is interrupted by the artillery of the government forces. The trio fight back, the people see their chance to overthrow the generalissimo and before you can say Viva La Revolution, the general is a prisoner and the Titans 3 fly off.
In the next issue, the Dudes With Attitudes are hanging out, above Earth...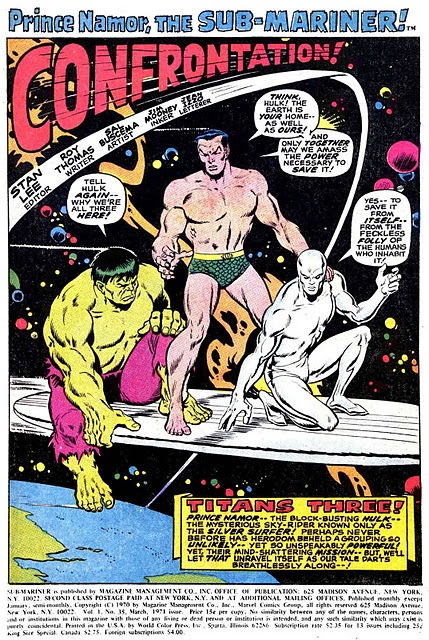 The weather experiment is still a threat and it turns out to be a UN project, run by the most gung-ho soldier this side of Gunny Highway.
Subby melts the troops weapons and they make like France and haul derriere. A quick call to the UN, a non-binding resolution to issue a scolding, and now the trio are really in for it. The Secretary-General calls up the Avengers and they head out. Meanwhile, Subby has summoned help and the Atlanteans show up to dismantle the weather device, including Lady Dorma. The Avengers show up, we get a face off, Subby tries to play peacemaker (Will wonders never cease?) and Goliath (the known hot-head Clint Barton) takes the first shot and it's on!
Hulk Smashes, Thor smites, Iron Man repulses, Surfer blasts, Goliath stomps and then the gun ho soldier turns up and launches a firefight. Lady Dorma gets them to stop, the scientist finish their work, everyone is summoned and the Atlantean boffin demonstrates the danger of the device and the soldier issues apologies. Hulk gets pissy and buggers off and Surfer goes to shoot some curls, while Subby and Dorma head back to plan a wedding. The Avengers head sheepishly home.
Thoughts:
That's a bit more like it. This was obviously planned as a team-up and it flows fairly well, with plenty of action and typical Marvel misunderstanding. Tr Titans 3 save the day and split back up, setting the stage for a full blown tryout of a regular team.