Post by codystarbuck on Jul 28, 2019 18:14:42 GMT -5

Volume 1
Story by Mark Millar
Art by Bryan Hitch with inks by Paul Neary Andrew Currie, colours by Paul Mounts
Chapter thirtheen : How I learned to love the Hulk
Chapter thirteen? Why have a thirteen issue series instead of a twelve issue one as tradition would suggest? My guess is that the story just grew in the telling, and as a reader I am not complaining.
The titled once again refers to weapons of mass destruction, as it is a nod to Stanley Kubrick's
Dr. Strangelove or: How I Learned to Stop Worrying and Love the Bomb
. Nice.
Bruce Banner falling from the sky is referred to as "the weapon of last resort", and Cap instructs everyone to fall back. Naturally, the scrawny scientist turns into the Hulk before impact, and Cap goads him to take on Kleiser by pretending the alien has been bumping uglies with Betty Ross while Banner was incarcerated. The Hulk then spends several pages beating Kleiser, before finally eating him. Yes, eating him.
As Hulk and Kleiser fight, the other heroes must deal with the Chitauri solar system-killing bomb. Jan and Natasha figure that Tony's genius will allow him to find a solution before everybody dies, but while Iron Man does manage to get the bomb on an elevator (the same elevator as in Katsuiro Otomo's
Akira
, gentle readers!) to take it out of the aliens' base, he admits that he has no idea how to defuse it and can only suggest that Thor, supposedly a god, send it away to some mystical realm.
Natasha is horrified, because naturally she assumes that Thor is just a mentally unstable individual using some advanced technology… and it is to Millar's credit that we, the reader, could easily agree with her. Even if our familiarity with Marvel's thunder god might mean we are tempted to believe what he says about his origin, here in The Ultimates nothing suggests that he's actually an Asgardian.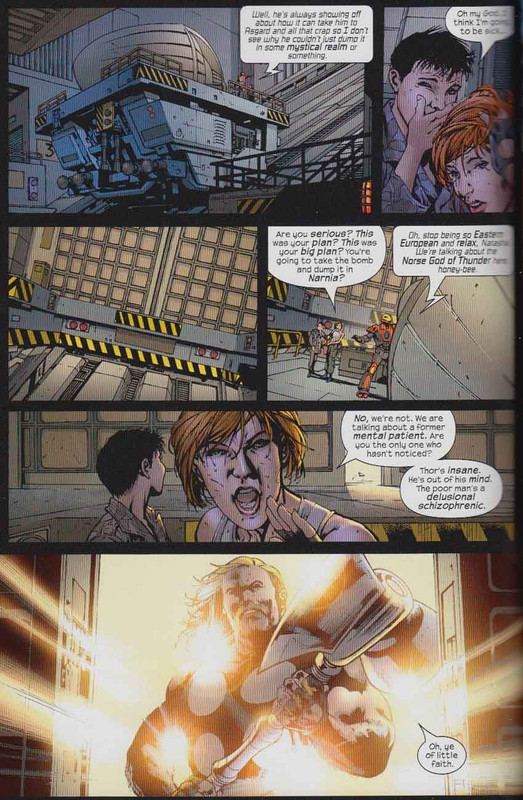 Well, the matter won't be settled today… But Thor does send the bomb away, and when it blows up all our universe feels is a sort of ripple. Thor says he dumped the bomb in the wastes of Nastrond, and we do not know if that's actually what he did or whether he managed to send it to hyperspace of something. I personally love that ambiguity, and wished it could have been preserved for the entire series!
The bomb gone, Kleiser eaten, all that's left is for the Hulk to bring down the last few giant ships and for the Air Force to handle the smaller vessels. We aren't told what fate befell the Chitauri who weren't killed in action. Area 51?
The Hulk is captured again thanks to an adamantium-tipped arrow delivering some serum, and we reach the part of the tale where the dust settles, we take stock, and prepare for the future. Hawkeye muses that our heroes have been fighting aliens who used to work with the Nazis, and that things don't get much more black and white than that… which in a sense is also a commentary on this type of story, which definitely benefits from a clear B&W dichotomy. It even becomes a little ridiculous sometimes, especially when using real-world situations in which some foreign group is represented as evil and another as good, just based on what our own political interest might be. I still remember how
Rambo III
cast the Afghan Mujahideen as noble freedom fighters facing the evil Soviet empire, something we also saw in the final issue of the comic-book
Merc
. We may have been
this
close to meet a heroic Usama Bin Laden in both instances! Nazis are a safe bet, though. They're gone, and nobody likes Nazis. Nor space aliens who want to blow us up.
As I recall, I had a problem with an earlier Millar-Hitch collaboration (in
The Authority
) in which some evil bad guy sent waves of flying supermen to attack our world "just to have fun"… This extremely B&W set-up was like an excuse to have superheroes indulge in mass slaughter with a clear conscience (especially since the "evil" supermen were said to be clones, and so somehow disposable… a heinous concept also used in the
Star Wars
prequels).
But anyway, these are just funnybooks… So yeah, Hawkeye, you're right; this was a pretty black and white situation, and the good guys won. (Volume two of
The Ultimates
will be much more nuanced, much to my satisfaction as a reader).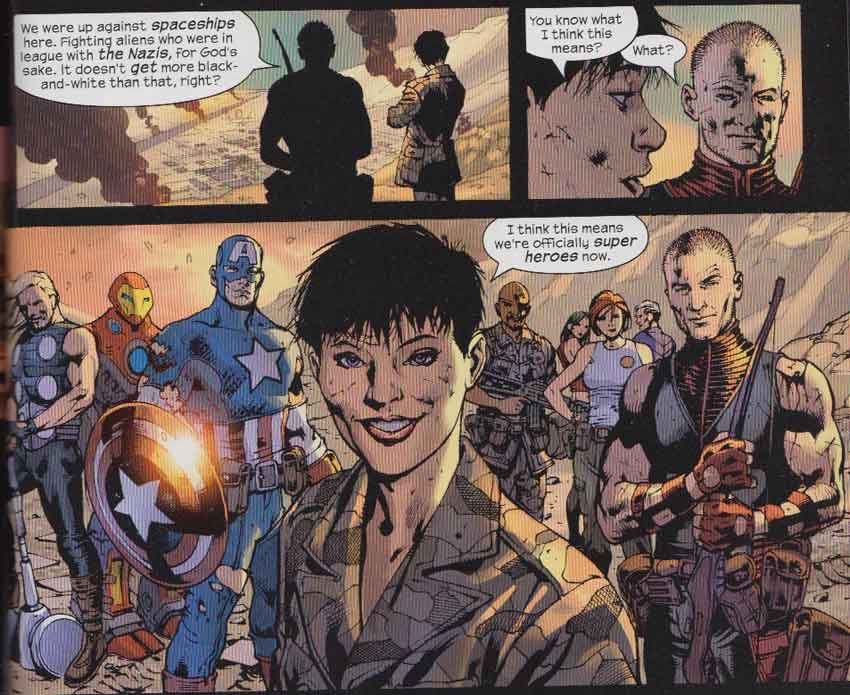 Banner is back in his cell, bemoaning the fact that he actually enjoyed eating Kleiser, despite being a vegetarian. Betty, meanwhile, reveals a kinky side of her character as she's quite aroused by her boyfriend's dark side.
We also have a poo joke, as the remains of Kleiser are recovered from Bruce's toilet bowl. (Note: the Hulk's poo is gamma green and it glows. I remember that Fly on the Wall, an old CBR contributor, had once postulated that the Hulk might have left scattered piles of green radioactive poo all over the American Southwest, much to the locals' chagrin. God, I miss Fly).
Jan and Hank have a short phone conversation, in which she tells him not to call again… ever.
At the White House, a victory party is held by the president. Tony dances with the first lady, we get to meet Hawkeye's family, Natasha reveals she plans to make a move on Stark, and Cap and Jan have a moment that show his earlier chivalrous conduct was not unappreciated.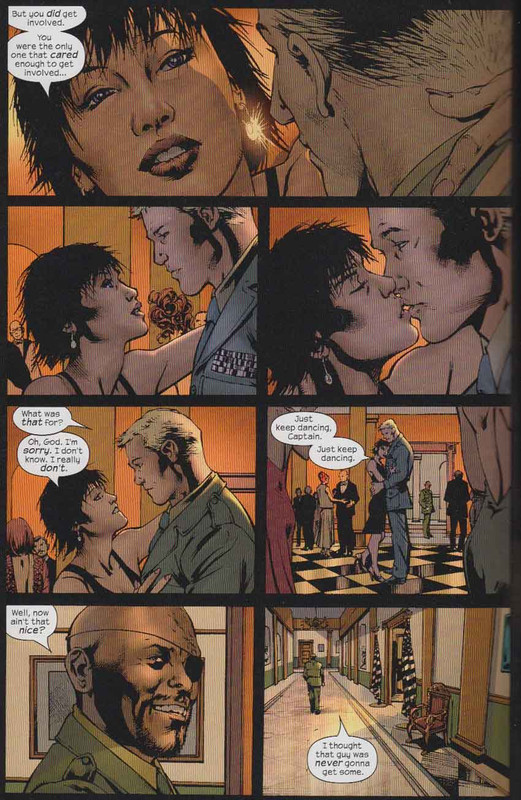 And so we conclude this first instalment of
The Ultimates
, which leaves the door open for more. I'm quite happy with the Avengers movie we eventually got, but this would have been a pretty decent one too.
Hey, Cap is out of uniform, for a black tie function. He should be in the Mess Dress Uniform...
Damn civilians!