Post by codystarbuck on May 23, 2021 22:01:26 GMT -5
Airboy #50
Cover by Joe Kubert!
Creative Team:
Chuck Dixon-writer, Andy Kubert-pencils, Adam Kubert-inks, letters & colors, cat yronwode-editor & executioner
It's a Kubert Employment Scheme!
On the inside cover, cat hawks some prestige items from Eclipse, like gold foil cover Tapping the Vein, limited edition Roy Krenkel Swords & Saurains, and autographed Bob Kane (highly suspect) autobiographies, complete with "original sketch." Wonder if those were ghost drawn, like those Batman lithographs he was hawking. I read that book and; and, to put it mildly, it required hip waders.
Synopsis:
We pick up where we left off, as Davy has discovered that his father's body has been stolen from the family crypt, by Misery!
Davy vows to get him back and Hirota warns him that is exactly what Misery wants. Davy says he understands and Hirota tells him good, as they gear up. Valkyrie comes home and finds then oiling and polishing their weapons (which is not a euphemism, I swear!) She makes light and Davy tries to hide what they are doing, but Hirota says she has a right to know. Davy tells her and she runs off, crying, with Davy following...
Valkyrie is not going, but the Heap has been sent to Bogantilla to accompany Davy. les Mansfield turns up and presents Davy with a "backpack" nuclear device! Must have gotten it from the Sharper Image catalog; or Shotgun News (they used to list all kinds of crazy stuff!). Hirota and Val see Davy off, as he climbs into Birdie and heads southeast. Hirota fills Les in about Misery.
In Bogantilla, some customs officials try to fleece the shaman for taxes & duties and he calls their bluff by summoning the cargo...the Heap!
They wave the fees and duties and the Heap and the shaman go to prepare for Davy's arrival. He lands near the castle where Davy freed Valkyrie from Misery. They go inside and the shaman prepares the ritual for opening a portal into Misery's realm, then Davy and the Heap cross over. They emerge on a desolate plain, within the dimension Misery claims as his own....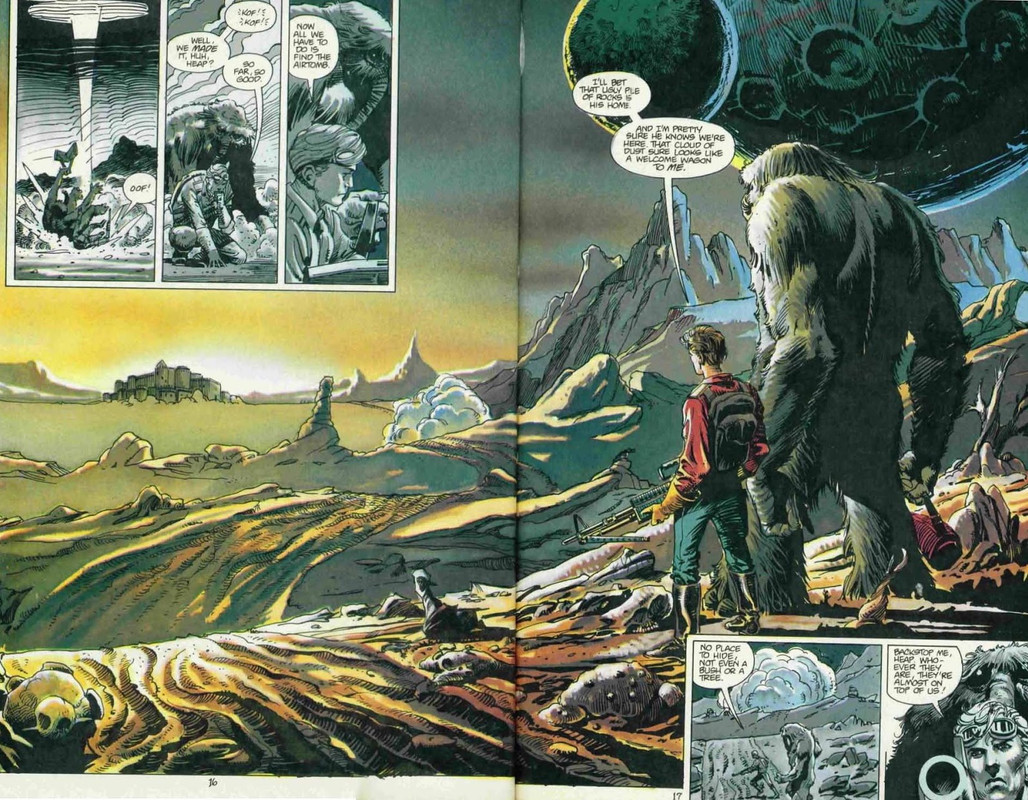 They head for the fortress and run into the biker rats that were once led by Manic. With Heap's help, Davy smashes them and they move on, but soon run into another rider in this desert...
Howard rides off before Davy can ask him if he put Melvin Dummar (Chuck says Melvin Dupree) in his will or not. They start to continue to the fortress, when the Airtomb flies over. it lands by the fortress and Davy and Heap follow. heap busts open a doorway and they go inside, where they find cells filled with souls, feeding Misery's hunger. He runs across Manic, who is chained to a wall, the price for failing to kill Airboy. He tries to make a deal, for his freedom. Davy isn't buying and moves on, while Manic sings some Hendrix.
Davy sets the nuke in place and sets the timer for an hour, but a familiar voice calls to him. He turns and sees Valkyrie silhouetted in a doorway....
It turns out to be Anna Mahmlan, the Air Maiden who took Valkyrie's place and committed atrocities in the Soviet Union, for which she later confessed, to free Valkyrie from Soviet imprisonment. At the end of that story, she took her own life and was claimed by Misery. The walls reach out and attack the Heap. Davy smashes Anna in her decayed face, releasing worms and maggots and shattering the skull and she collapses to the floor, as Davy runs on. He is attacked by Baron Von Tundra, Black Axis and Goro, all enemies of the Air fighters.
They have Davy pinned down, until they are wiped out, shot from behind by some unseen friend to Davy. he moves on, wondering who his benefactor is. Out of the shadows steps the Flying Dutchman, holding a tommygun, who watches as Davy runs the other direction. Davy encounters a horde of rats and fights through and finds himself in the center of Misery's domain...
He forces Glen Miller and his band to play, as he monologues. He feigns innocence at taking Davy's father and Nelson Sr appears and tells his son that he came of his own volition. Davy tries to reason, that Valkyrie is not a prisoner there, and Davy Sr was not a failure, as a father. It doesn't work and Misery cackles and tells Davy Sr he must shoot his son, so that he can join them and gain guidance. He is about to pull the trigger, when help arrives...
Heap grabs Davy Sr and pulls him away, plummeting into a lake. Davy Jr fires on Misery and battles him, stopping him from pursuing. The Heap is able to pull Davy Sr's soul inside himself, to return him to the life cycle.
Davy and Misery battle and it goes bad for Airboy, when the Heap reaches out of the pool and grabs Misery, dragging him in. Misery grabs Davy and pulls him with him, until he is riddled with bullets and Davy meets the Flying Dutchman...
He tells him to go and that the Heap will find his own way out.
Davy runs into Mr Hughes, gassing up his bike. Davy borrows it, after assuring Mr Hughes he has had his shots and promises to return it to the Sands Hotel and Casino. Davy heads for the portal asthe nuke goes off in misery's fortress. he is near the portal when he is hit by the shockwave and tumbles through.
In Bogantilla, Skywolf and Lupina arrive at the castle and hunt for Davy. They find the shaman. he is dying, covered in radiation burns. he tells them that he held the portal as long as he could, but Davy isn't dead...
The letters page features cat making the announcement that Airboy is cancelled, with this issue. She cites a lack of a regular artist, chronic lateness, which she blames on Ernie Colon, slipping sales (from said lateness) and basic issues with the concept of Airboy as a youth hero in a real world environment. She also brings up political realism and uses this as an excuse to push their newer ventures, like Brought to Light, their new politically-oriented trading card sets, their upcoming Prestige Format series and graphic novels and the emphasis on such products, including the Black Terror mini and the Hobbit adaptation. She mentions that Chuck had planned another Shywolf period arc, where he would be involved in the Cuban Revolution, on Castro's side (which, compared to Batista, actually looked like the white hats. You'd have to ask Cubans if that was reality or not) She witholds plans about Airboy, saying they might continue in a graphic novel, though one never came and it was unlikely it ever would (see below).
Thoughts:
You can't get much better than this, for a series finale. The stakes are high and the mission is desperate, as Airboy battles Misery, in his own realm and tries to destroy it. can a nuke really destroy Misery? We will never know, thanks to cat. I'll get to that.
Chuck goes out with a bang and this is the series where he really cut his writing teeth, though he had already been earning his bones on Evangeline, before this. From here he went on to be one of the more reliably entertaining writers in comics, at both DC and Marvel, writing everything from Batman books (including launching Tim Drake, as Robin), to creating the Birds of Prey series, to dabbling more in Men's Adventure pulp, with the Punisher.
The book is gorgeous, with the Kubert Brothers just going to town with things, looking like chips of the old Pa. At this stage, their work was very much in the style of their father, especially Adam. Andy was a bit more individual in style and this grew as he moved into the X-Men world and added Imagey touches, though with a far better grasp of anatomy and storytelling (and fewer molars). Adam seems to be the one for the textures to their joint material, as he worked with his brother on DC's less than beloved Adam Strange mini (Thank Broom that James Robinson rehabilitated that, in the pages of Starman).
Howard Hughes is a nice touch, as another dead aviator, forever at his vital age, riding in the desert. Chuck adds nods to the film Melvin and Howard, based on Melvin Dummar's claims of meeting Howard Hughes in the desert and a will naming him an heir.
Sadly, we will never know where this would have gone. Cat's excuses on the letters page don't hold water. In interviews and the Airboy Archives, Chuck states that he an cat started to butt heads during the Afghanistan storyline, as she took issue with the mujahideen being portrayed as heroes. She insisted in putting in material about their attitudes towards women. Given that some of them went on to form the nucleus of the Taliban, there is merit to that; but, that is a case of cat imposing her own political viewpoint on an adventure series, because she had the power. Chuch was and is a Goldwater Conservative (his words), while Tim truman considered himself a lefty, as was Tom Yeates (whose Reagan autographed picture joke panel caused no end to grief with Reaganite readers). Tim was more concerned with solid pulp adventure, with visual flair and real world situations and the political balance in the series was pretty good and even-handed. The good guys had shades of grey and we saw Guillermo prove to be a better revolutionary than presidente. Davy had to grapple with noble intentions and economic realities. Skywolf consistently showed his lust for adventure led to a life of pain and misery, but he was unwilling to break the cycle. It was a rich world of characters, with Les Mansfield adding another fun aspect.
Cat threw Ernie Colon under the bus, saying he was chronically later and held up the series, causing sales to drop, while this issue was already in house. According to the release data at Mike's Amazing World, there was only one delay during Colon's run, between issues #48 and 49, a period of 4 months. the other 3 issues were all published with the regular monthly frequency. That doesn't explain why there was another 4 months before this book, allegedly complete and in house, was published. the truth of the matter, from interviews and my conversation with Mike Grell was that Eclipse had serious cash flow issues and had bounced too many checks with printers and other suppliers. They were requiring cash in advance to print books for Eclipse, which greatly affected Grell's James Bond mini (all work was in house, yet it took over a year and a half after the first issue for the third and final to be published. Eclipse had tried to go with newsstand distribution, to compete beyond comic shops and failed, just as Comico and First Comics had. Newsstand distribution requires being able to sell to clients and speculating on print runs. Unsold copies are returnable, traditionally, which leads to higher losses. Eclipse was trying to sell through Waldenbooks and B Dalton, who saw a demand for comics and graphic novels; but who had trouble reaching beyond the existing audience, that overlapped with comic shops. Everyone failed in this realm, with only Archie weathering the storm to continue to sell in grocery stores and elsewhere, as the direct market had proved hostile to their books (the shop owners that is, not necessarily readers). They continued to make do with checkout lanes and shrinking newsstands.
Eclipse was a mess, financially, and was chasing prestige dollars, in the book trade market. they would soon cut a deal with Harper Collins to publish their tradebooks and graphic novels, for the retail book market. However, Harper Collins was the 200 pound gorilla in the arrangement, with terms greatly favorable to them and a reputation for treating little people like dirt (they are part of the Murdoch empire) and they were chronically slow in paying Eclipse their royalties. They also didn't exactly put a lot of money into promotion for these books, apart from a select few, like Dave Wenzel's The Hobbit adaptation. That thing sold for years, even after Eclipse's demise (as it was a licensed adaptation and property of the Tolkien Estate). They were also chasing name projects, with their new Clive Barker projects, as well as similar things, with prestige trappings, like Jon J Muth's adaptation of Fritz Lang's M and new collections of P Craig Russell's opera works. All of this would come tumbling down, as eclipse became more and more erratic with their release schedule and creators stopped working with them. series went unreleased or unfinished, as payments to creators fell behind. When Dean and cat's marriage fell apart, it was the final blow, though the company was pretty much in hospice for months, before that.
Chuck never got to finish Airboy and the property seemed to end up with Todd McFarlane, except Eclipse didn't own the characters, just their versions of them, as they were in the public domain. Moonstone did an Airboy project and then James Robinson came out with his gonzo Airboy thing. IDW reprinted Airboy in Archive books, bringing things sort of full circle, as Dean Mullaney was working with them on their Library of American Comics releases, as well as stuff like Corto Maltese.
Airboy was a terrific adventure series, with layered characters, exciting plots, outstanding gritty art and more than a bit of humor. The Skywolf strips were my real favorites, as Chuck and his collaborators took us on a jounrey through post-WW2 America's shadow wars and other murky playing fields, as the flying soldier of fortune got into more trouble, at every turn. He even found himself in suburbia, in a marriage that quickly fell apart. It would have been nice to see the modern Riot reunited with Sky, even for just one adventure.
So, this closes the Airboy chapter on the book of 4Winds. However, we aren't done, as Scout: War Shaman still has 4 issues to go and we have Tim Truman's historical graphic novels, as well as the international ones, from the Argentine crowd, and one close to home, from Sam Glanzman.