Post by codystarbuck on Oct 7, 2020 15:41:33 GMT -5
Airboy #12
Early Dave Dorman cover and not a painted one. Dorman was another Kubert alum.
Creative Team:
Chuck Dixon-story, Stan Woch-pencils, Kim De Mulder-inks, Tim Harkins-letters, Olyoptics-colors, Tim Truman-editor
Skywolf: Chuck Dixon-story, Bill Jaaska-pencils & some inks, Jeff Darrow-other ins, Tim Harkins-letters, Olyoptics-colors, Tim Truman-editor.
In the Penumbra, cat says goodbye to David Allen and hello to new sercretary/receptionis/mail room clerk/copier warden/gopher and probably soon to being moving on assistant. She then lists a bunch of editors, basically saying the writers of a good chunk of their material are editing it themselves (Mark Evanier, Tim Truman, Bruce Jones, etc) while Cat is doing just about everything else, though I seriously doubt she was "editing" Alan Moore and Tim Truman. On Miracleman, she was wrangling the artist, with Chuck Austin, which didn't turn out well, but I have no idea if she or Alan Moore secured Rick Veitch or John Totleben. She also whines about Amazing Heroes not running an Eclipse news announcement in over a month. Well, they were a competitor, since Fantagraphics published it, though they hadn't quite ramped up their publishing. Eclipse was about to though.
Synopsis:
Hirota checks in on the recently reactivated robot, who tells him to go @#$% himself. He has a point, since it is a thinking being and Hirota left him immobile on a floor, which is kind of the act of a Richard! Oh, and the robot is Iron Ace....
DUNH-DUNH-DUH!!!!
Who?
Iron Ace, you know, this guy....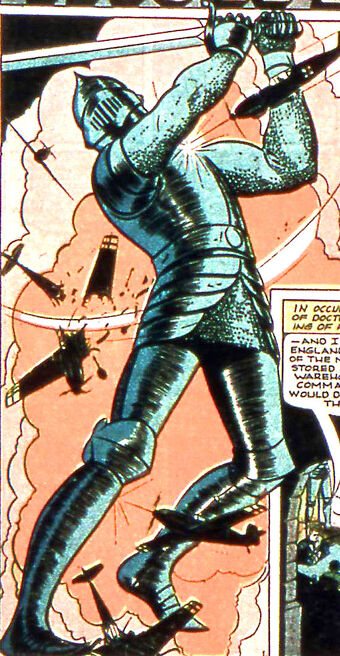 RAF Captain Robert Britain (just to make sure we know he's English) who is shot down over France, meets up with Dr La Farge, leader of the local resistance cell, who is killed by the Germans. Britain (the man, not the entire country) dons a suit of armor that belonged to the Iron Ace, a knight of Charlemagne, and uses his sword to F-up the Nazis. He then builds an armored plane and goes out to give six of the best to Jerry!
Meanwhile, Davy and Valkyrie shoot skeet and she kicks his butt. They dance around the subject of attraction and Davy storms off, saying he can't be his father. Well then, stop mackin' on his girl!
Skywolf is flying an approach to his private air field, in a Lear jet, liberated for Orista. He spots the destruction from the air and lands. He finds the dead merc, with a note in his hands. The next day, he meets up with Davy & Hirota at an airfield, in Galveston, TX. He greets them and introduces Davy to Link Thorne, the Flying Fool. They are about to go for beers, when they are interrupted by...
Skywolf's mom! And his name is Lawrence! We also meet Link's son, Kip, who looks like Wing Ding is his mother and is supposed to be a top flight mechanic. Sky fills them in and says he and link are rebuilding a prototype Apache helicopter and then he's going after the bandits. Davy asks when dustoff occurs, but Sky says he just needs weapons, from Nelson Aviation. Mom says he has no sense, just like hs pappy, who we see in a photo, in the background, with Pancho Villa!
Down in the Grand Coronicos Islands, where the drug cartel is centered, Manic is having some fun with twin Mini-Uzis and a flunkie who lost 50 kilos of coke. With him is some chick called Cowgirl, who dresses like a stripper. Manic reports to The Senora, who runs the place and she says she wants Skywolf put down. We then see that her husband, El Presidente, is an old man, watching tv.
In South Central Florida,a C-130 takes off, carrying drugs, but runs into a problem...
A .20 mm problem! Meanwhile, the guys on the ground find their road blocked by Skywolf and his Apache, which Sky can operate remotely. he says hello with his chain guns and says he has a few questions for them.
More controversy in the letters pages, about the replies to comments with complaints about the Reagan photo. Two more "patriots" attack the Airboy crew. TM Maple and Uncle Elvis have more reasoned responses, as do a couple of others.
Skywolf: Back in 1949, Skywolf and the Yakuza are watching the meeting between the sangokujin and the bandaged man. The Yakuza interrupt their exchange, James Bond ninja style...
Well, minus the grey suits and the rocket guns. The money case gets sliced in two by a katana, then Skywolf and Riot drive through a warehouse door, in a deuce and a half. Skywolf hops off the running board and unloads with his Tommy Gun. Claude Rains spots him, hears the name and wets himself, as he thought Sky was dead. He hotfoots it and runs into Riot, who is armed with a 1932 schnellfeuler Mauser. More sangokujin turn up and Sky wishes he had skipped the drum magazine and went for the more handy stick magazines and more of them. Billy Yee runs into Tetsuo, who subdivides him.
Riot makes Claude remove his bandages, while some goon tries to grab Skywolf from behind. He just points his Thompson down and shoots the idiot in the foot. Then, Riot shows him who is under the bandages
It's Jensen the CIA man. he knocks a distracted Riot aside and runs outside and jumps into a car. Sky jumps on the deuce and pulls a bazooka out of the cab, goes outside and takes aim...
That's fr Judge, Cocky and turtle! Tetsuo and the Yakuza take their leave, before the MPs turn up. Skywolf sends Riot on and says they'll meet up again.
Thoguhts:
Airboy transitions into the new storyline, as Davy, Hirota and Skywolf deal with Manic, Cowgirl and drug runners, who operate from a Caribbean Island nation, which appears to be run by the president's wife. Should be interesting. This was the era of Miami Vice and the big days of cocaine trafficking through Miami and Florida. It was also the start of the War on Drugs, which mostly succeeded in throwing a lot of money at the defense industries, without ever really stemming the flow of drugs. Kind of hard to when the CIA are also selling drugs to raise cash for the Contras' operations in Nicaraugua, as revealed in several journalism pieces in the era. This was the height of the Medellin Cartel and the Airboy gang are diving right in, in a somewhat more colorful manner. It's not exaclty clear why they would attack the cargo plane, after it takes off from Florida. That would most likely mean it had offloaded its cargo, from Central America, for distribution in the US. Makes more sense to shoot them down on approach, when the drugs are on board. Guess Davy was late.
Skywolf has to turn to Link Thorne, which lets us know he survived to the present and he just happens to have an Apache prototype sitting around and Davy just happens to be able to supply weapon systems and ammo.
Skywolf's mom is a hoot and let's hop she sticks around a bit. Kip Thorne probably will, or else why introduce him? Val seems to be sitting this one out and she and Davy are still avoiding confronting their feelings. We still aren't clear about Davy's age, except that if he can assume control of Nelson Aviation, he would have to be at least 18; otherwise, he couldn't legally handle things and sign contracts.
Our mysterious Senora seems to be a bit of an Eva Peron, the power behind the leader, or Imelda Marcos, if you prefer. This, in itself has a long history, which includes Tran Le Xuan, aka Madame Nhu, aka "The Dragon Lady," wife of Ngo Dinh Nhu, brother of Vietnamese president Ngo Dinh Diem. Nhu was chief advisor to his brother and he and Madame Nhu lived in the palace with Diem, who was a batchelor. By most accounts, she was the real power there and was known for a mercurial temper. There was also Soong Mei-Ling, aka Madame Kai-shek, wife of the Nationalist Chinese leader. She was said to be the conduit to him in all things; his eyes and ears. Nancy reagan fulfilled a similar role in her husband's administration, especially as his health declined and his mental state came into question. She famously fought with chief of staff Donald Regan. Before that there was Edith Wilson, second wife of Woodrow Wilson, who controlled access to him after his stroke, in 1918. Some said she was actually making decisions for him.
Skywolf ends the sidetrip to Occupied Japan, and it's a pretty fast wrap-up, leaving you to kind of wonder what the point was, other than to kill the CIA man responsible for shooting the team down. It seems a bit under-developed. That was one of the frustrating things about the Skywolf historical stories, as you often wanted to spend more time in the period and locale, but the story was rarely more than 2 parts and Chuck would move it on to the next theater of operations. The trip to Indochina did get a three issue mini-series, though (Sky was back in Airboy, in back-up stories, right after).
As we can see, both stories deal with drug trafficking; one with Latin American cocaine and the other with Chinese opium. Airboy gets more pages to devote to the theme.
We still don't exactly known how Richard Britain ended up in a robotic body. There were easter eggs to help you figure out he was Iron Ace, before Hirota revealed it, as is pointed out by a letter writer in next issue's LOC page. The only Hillman characters we haven't seen so far are Black Angel and Flying Dutchman and they will be turning up.
Next, Scout #15