Post by Roquefort Raider on Oct 24, 2018 17:52:17 GMT -5
Okay, it looks as if I'll be weak and will continue to buy these books! I just finished Beyond the Black River (review coming right up) and am expecting to receive The Frost Giant's Daughter in a week or so.
So I'll stop squatting the Marvel Conan thread.
-----------------------------------------------------
Here's a Sample of Glénat's Queen of the Black Coast.
I don't know what to make of it. It looks good, but we've seen these stories before and the new interpretations are not that novel. It's the same with Marvel's new series... Will they build on what we saw before, or just be the adventures of a loincloth-wearing barbarian named Conan? Kurt Busiek succeeded in his reboot by doing his own thing while staying very true to Howard, but that's a difficult trick to manage.
------------------------------------------
As we wait for the Marvel books, here's something about Glénat's new Conan series. The idea behind the series is that each book will feature a single Howard adaptation, by one team of creators each time, and hopefully providing a unique vision.
I just got
Black Colossus
, adapted by Vincent Brugeas and drawn by Ronan Toulhoat.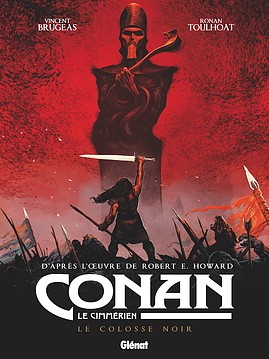 A short text piece by Patrice Louinet makes a parallel between the plot of
Black Colossus
and that of Sax Rohmer's
The Mask of Fu Manchu
, which Howard almost certainly read (being a big Rohmer fan). In both stories an ancient desert cult is revived by a masked prophet apparently resurrected after several centuries. Louinet's byline is welcome, as it gives a certain credibility to the series (Louinet being a Howard scholar... and having an actual doctorate in English studies titled
Traumas et conflits symboliques dans l'oeuvre de Robert E. Howard
).
The book itself looks really nice, with great colours. The story would have warranted more pages, I think, but doesn't really feel rushed.
The art by Toulhoat looks good; not too fantasy-like, and seeming grounded in reality despite depictions of grand-looking architecture. The most original thing about it is Conan himself: he doesn't look like either Frazetta's, Buscema's or Smith's version, nor like Arnold Schwarzenegger.
The page below is slightly NSFW.
The old city of Kutchemes looks suitably buried in sand, and in a nice sequence we see the city as it is today juxtaposed to what it was 3,000 ago; the vision of the old city is in black and white while the ruined city of today, seen by the thief Shevatas, is in colour. That's a clever effect, economical and effective.
The adaptation, alas, left me ambivalent. Brugeas decided to make some changes, and while some are interesting I find others unnecessary or even detrimental. On the plus side, we get a few more characters who weren't in Howard's story; they are a few of Conan's mercenary comrades, and give us someone to care for (someone whose fate is uncertain, that is). It makes Conan a little more relatable, as the good-natured banter between him and his friends shows that he does care about them.
Princess Yasmela is also far less of a damsel in distress than in the original story. It's not that her role or even her lines are that different, but the way they are delivered and put on the page shows her as being much more in control. She lets the wizard Thugra Khotan get a piece of her mind when he is abandoned by his gods, orders Conan to kill him, and when she jumps on the Cimmerian at the end of the story it's really not with the desperate tones she had in the Weird Tales story: she wants him, and she's gonna have him!
Here's a
link
to that scene
(NOT SAFE FOR WORK! CONTAINS NUDITY!)
in which a battered Yasmela (she was just struck by the wizard) pays no heed to her bruises.
The dark gods who back Thugra Khotan speak to him and are represented as some kind of swirly and swarm-like cloud. That's pretty effective, and is very well rendered by the artist.
Now for the changes I didn't care for...
There's one mistake, but one that is easy to make. Black Colossus describes the resurrection of Thugra Khota, who has slept for 3,000 years in the desert city of Kutchemes. The undead wizard becomes a prophet, raises an army and marches on the civilized countries. Here we describe how he is defeated by the army of Khoraja, under the leadership of Conan, at the border of the country. But in the final scene Thugra Khotan abducts Princess Yasmela (who had accompanied her troops) and gallops away, hotly pursued by the Cimmerian. In Howard's story, Thugra Khotan makes his way to a small and ruined desert temple; here, he rides all the way to Kutchemes!!! But Kutchemes, as we can see on the map included in the book, is hundreds of miles away! It sounds better dramatically for the villain to meet his end where he was reborn, but it's just geographically impossible.
As for the other changes... the early scene in which Yasmela is taunted nightly by the spirit of Thugra Khotan and the scene where she goes to ask help from a god (Mitra) that is not that of her people (they worship the goddess Ishtar) are initially skipped and later told in flashback. I find that this is a mistake. First, they helped establish the creepy nature of the bond between the wizard and the princess; her determination to go to war and to accompany her troops is more meaningful if we already know that she is haunted by a spirit and half-mad with fear. Second, it explains how she could give the command of her army to «the first man she would meet in the street», as per Mitra's oracle's instructions. As is, she just explains to Conan that she made him a general because a god told her so. It has less impact.
Conan's banter with his friends was already mentioned, and is a good point... but then he leaves them to carouse while he goes to stretch his legs. Conan? Leaving a party? In the original story, he was forced to leave the tavern because of a Crom-forsaken curfew imposed by his general!
Thugra Khotan is depicted as just a wizard. He doesn't have the horribly decomposed visage that forced Natohk to cover his face. Why? Unnecessary modification as far as I'm concerned; these small magical touches add something to the tale, I think. Ditto for the strange winged camel-like creature pulling Thugra Khotan's chariot; it's replaced by a pair of skeletal animals.
When Conan meets Prince Kutamun in the original, the Stygian prince is a real badass who attacks Conan with two big rocks, having lost his sword in the melée; and even so, he proves almost a match for the Cimmerian! Here he's just another giant with a sword and Conan stabs him. Not as dramatic.
All in all, it's a good effort. It does not replace Savage Sword #2 as my favourite adaptation of
Black Colossus
, though.