Post by codystarbuck on Sept 28, 2022 17:40:28 GMT -5
The 90s was the decade of "grim & gritty" run amok. It started in the late 80s, as Dark Knight, Batman Year One and Watchmen became big successes, with dark tales of superheroes and bleak worlds of violence and corruption. Added to that was Frank Miller turning the Punisher into an anti-hero that struck a chord with the 80s audience, who lined up at theaters to watch violent action movies with conservative heroes, like Arnold Schwarzenegger and Sylvester Stallone. Gun toting vigilantes were cool and Dirty Harry and Paul Kersey went from reactionary figures to mainstream heroes. The comics world exploded with big guns, violent battles, scantily clad women, leather jackets, and pouches! The Image bunch broke away from Marvel and started a company that fed this beast, with thinly plotted tales of superhero copycats of their Marvel work, splashed across sparsely paneled pages.
Into this world of Artist Is King came a few chosen writers, selected to add a bit of cache to these young turks' work. One of them was Alan Moore, who mostly did it to thumb his nose at DC and Marvel, rather for any real affinity for what they were doing. Moore did a few things for Spawn and Wildcats, but nothing that made the Earth shake. His biggest contributions were doing a Marvel pastiche/satire, with Rick Veitch and Steve Bissette, his former collaborators on Swamp Thing, and a series of entertaining throwbacks to the Silver Age, on Rob Liefeld's Superman knockoff, Supreme. There, Moore joined artist Chris Sprouse (and others) in doing the kind of light and fun stories that used to fill Silver Age Superman and Superboy comics.
Moore continued his association with Image, via Jim Lee's Wildstorm imprint, where Lee was offering a venue for creator-owned work, with Moore and Kurt Busiek as the lynch pins (aside from Lee's own series, handled by hired writers and artists). Busiek and Brent Anderson (and Alex Ross) delivered Astro City, as comic book essay on the archetypes of superhero comics. Moore travelled a similar road, but took it in a different direction. he concocted an entire little mini-publishing imprint which harkened back to the heroes and comics of the past, right down to the name. He dubbed his line America's Best Comics (or just ABC, for the sake of brevity), borrowing the title of an anthology comic from Nedor/Standard, a Golden Age publisher of such heroes as The Black Terror and Fighting Yank. For this imprint, Moore presented us with 5 key titles and then some offshoots. The five titles were The League of Extraordinary Gentlemen, Tom Strong, Promethea, Top 10, and Tomorrow Stories.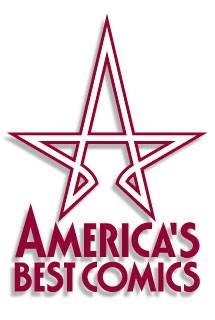 Moore intended to create a whole little universe, for Wildstorm; but, he decided to keep the League of Extraordinary Gentlemen for himself and artist Kevin O'Neill. He was excited at the prospect of doing superheroes again, but the way he wanted, with editorial freedom.
Then, fate intervened to mess with him. Jim Lee sold his imprint to DC Comics and accepted a position as an executive at DC. After the fallout of the Speculator Bust and the distribution wars touched off by Marvel purchasing Heroes World, to self-distribute their comics (which resulted in Marvel's bankruptcy), comics were in a severe decline. Lee went looking for a buyer to take his company off his hands and let him focus on art and producing comics, while someone else deals with the financing and publication. Alan Moore was caught in a bad position. he made a deal with Jim Lee, a man he trusted, who just sold his company to the very people that Moore considered the enemy and had refused to ever work with, after they effectively swindled him and Dave Gibbons out of Watchmen, in perpetuity and reneged on multiple promises, while making loads of cash off his name. To fans, it looked like this line of exciting-sounding comics was dead before it ever launched, as no one believed Moore would work for DC, even if pressed by contracts.
A solution was brokered. DC would have no direct editorial input into the ABC line, as Scott Dunbier would be Moore's only contact, as he was the editor coordinating the original project, for Wildstorm. Moore was willing to compromise because he had promised work to several artists he had collaborated with on Liefeld's books. So, the line went ahead, with Moore acting like DC wasn't involved and DC mostly keeping their hands out of things, until they couldn't keep their itchy fingers out of the line and started messing with the status quo, fairly early in their relationship. The end result was a short-lived but massively entertaining batch of comics, that took old archetypes and gave them a fresh coat of paint, took up the challenge of Phillip Jose Farmer's Wold Newton Universe, and explored Moore's fascination with Magick (the esoteric stuff, rather than the stage variety_ and reality. It also demonstrated that Beardy McGrumpypants had a pretty darn good sense of humor as these comics were fun, with a capital F. While other comics were competing to see who could bring in a bigger bodycount or illustrate more viscera, Moore was busy doing police procedurals, sentient protoplasmic lifeforms, boy geniuses, and a superhero group of Victorian literary characters, in a world with more easter eggs than a Rankin-Bass holiday special.
So, join me and Alan Moore, as we explore the world of ABC.
It's easy as 1...2...3......
Yup, kiddies; Michael Jackson and his brothers once had their own cartoon. Remember when that was the most unusual thing about them? Rankin-Bass also did one for the Osmond Brothers....
And people though Sid & Marty Krofft were smoking weird stuff!