Post by codystarbuck on Jun 5, 2023 23:51:08 GMT -5
First, the title comes from a drill command to have an entire group (battalion, company, platoon, etc) march in formation, to be reviewed by a commanding officer and visiting dignitary or senior commander, such as at Basic Training Graduation ceremonies, changes of command, visits by the President & Commander-in-Chief or award ceremonies. In this instance, we are assembling the entire JOE Team, for review of their missions.
In other words, I am going nitpick, crack jokes, kibbitz and celebrate the stories and characters of Marvel's tie in comic, to Hasbro's new release of smaller (read INFERIOR) GI JOE toys.
First, my background with GI Joe, the real dude. I was born in 1966, but got my first GI Joe came to me circa 1971-72. My brother received the Land Adventurer (basically, Army soldier) and I got the Air Adventurer (Air Force pilot), though I am fairly certain that my Air Adventurer had the reddish brown hair of the Sea Adventurer and not the sandy blond I have seen in photos of the Air Adventurer...
We got them for Christmas and we also got the wooden footlocker storage boxes, though they didn't come with the accessories pictured on the inside of the lid, which, I think, actually came with the 1960s version. We are talking late Vietnam, where Joe was no longer a servicemember but an adventurer. My memory is hazy; but, either than same Christmas, at my grandparents' house, or the following Christmas, we both received play sets. he got the Mummy's Adventure set, with the ATV and the Helicopter and a mummy's sarcophagus.....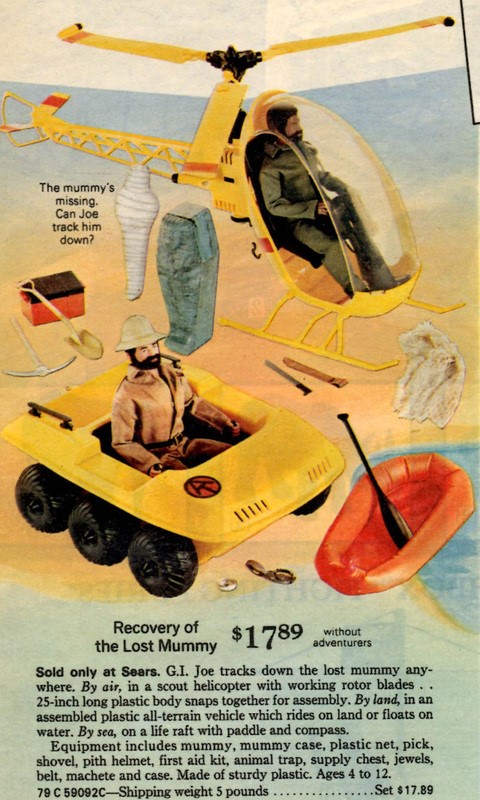 ...and I received the Adventure Team Headquarters......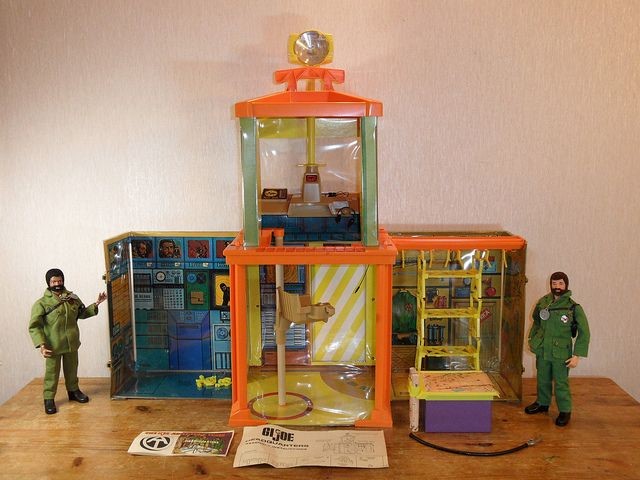 That was awesome, especially the observation tower, with the chair, on a pole, that you would insert the big figure and then lift it to the top and hook it into a little socket, to keep it in place. However, the Mummy playset had a ton of accessories, including M-1 carbines; so, I was jealous of my brother, because he had those. Now, the idea was we were supposed to share and play together; but, we were two years apart and my brother was possessive of his toys. That led to a little temporary larceny, when I played with my figure (okay...doll). I would then move on to Mego superhero figures (Batman with removable cowl!); but, came back to the Adventure Team, when I got a Bulletman figure.....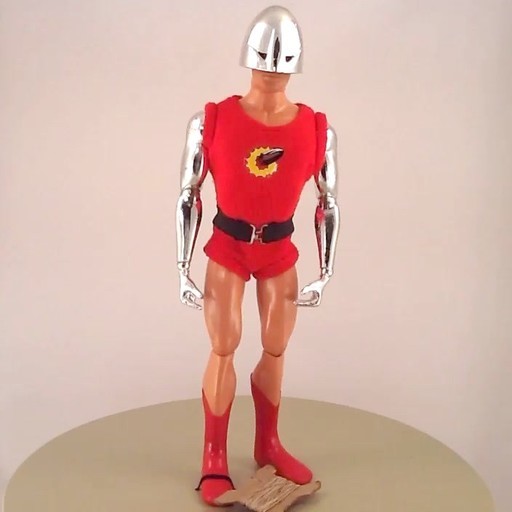 Bulletman the Human Bulllleeettttttt............................................
Now,
we already have a thread dedicated to the GI Joe toys
; so, I am not going to dwell on this. This is about the GI JOE comics, from Marvel, debuting in 1982.
In 1982, I am 15, going on 16, when I see ads for a new GI Joe comic and new toys that were coming out. My comic book buying had slowed way down, mostly X-Men and New Teen Titans, Legion of Superheroes, and then the new offerings from First Comics, like Jon Sable, E-Man and American Flagg and some others. I was also deeply in my fascination with the military, men's adventure pulps, action films, war movies, military history and the like, though well before the option of an ROTC Scholarship entered my reality. So, the idea of a Joe comic book sounded cool and it sounded like the new toys would be the Joe version of Delta Force, fighting terrorists, rather than Nazis or Commies or mummies. Imagine my surprise when I saw this on tv......
Aside from the rather stiff animation, that was pretty darn cool. So, I wanted to check out the comic. I noticed, in an ad, that you could get it by sending off for the GI Joe Fan Club kit, or something like that, where it came with a military web belt and buckle, with JOE emblem (sized for kids, though, not teenagers), some certificate junk, and the first issue of the comic. Since I couldn't trust that I would find it on the sparse newsstands, I sent away for it and got it. Tossed away all of the other junk and just hung onto the comic (well before eBay, so, I wasn't stupid).
I then purchased the next half dozen issues on the newsstand and generally enjoyed it, though the accuracy of the legit weapons left a lot to be desired, especially when you grew up with the DC war comics, which had a pretty good track record on that element (apart from a few artists, who tended to draw MP-40s as more tubular, in a 3/4 view). Uzis lacked shoulder stocks and varied in scale, from pistol size to something closer to a rifle and M-16s had wonky proportions. Also, what is the deal with these helmets? The US Army had introduced the new kevlar "Fritz" helmets, shaped like the old German
stahlhelms
. These looked more like elaborate motorcycle helmets. Also, why can't anyone draw camouflage properly? Why is there a ninja? Who thought Kwinn The Eskimo was funny?
I also watched the first animated mini-series, after getting home from school, then the second one, but only ever sampled the cartoon. The animation was very stiff, voice acting was a bit over-wrought and no one ever got hurt. This was better for kids? That war was a bloodless thing? Gee, with Jonny Quest, people got shot and died. You understood that guns killed and were things to be treated with respect. Seems a bit more of a protective message to send to kids than this idea. Besides, why was Cobra Commander always screeching? Why did anyone follow this chump? Where do all these guys come from, anyway? Where do they get their appropriations? Do they have a health plan? Retirement benefits? A PX? Is there a Cobra version of the VFW? Can they get a housing loan? meanwhile, was there a medal for fighting Cobra? How come the Joes never went after the PFLP or Red Army Faction? Why the hell were they calling the F-14 Tomcat the Skystriker? How come Shipwreck has a beard, when they were outlawed in the US Navy? Why does he have a parrot? Who the hell thought Sgt Slaughter was actually a Marine, instead of a guy wrestling in the carolinas, at Ft Bragg and Camp Lejeune, as a DI Gimmick, after being Super Destroyer Mark 2, under a mask?
Maybe the comics will answer these question.
Let's get down to the origin of the series. Hasbro was looking to revive the GI Joe toyline, but needed a new hook. They intended to follow the Star Wars lead of smaller 3+ inch figures, so that they can have more reasonably priced accessories and vehicles. By chance, the top guy at Hasbro attended a charity event, also attended by Marvel's president, James Galton. They got to talking (Jim Shooter claims in the men's room, standing at adjacent urinals; but, I don't buy that) and Stephen Hassenfeld, CEO of Hasbro, mentioned they were developing a new GI Joe toyline. Galton piped in that they could help with the creation of characters, for the toy figures and do a tie-in comic book, to help market it, plus Marvel Productions could do animated commercials. Hassenfeld was receptive to the idea and soon Marvel was meeting with Hasbro to see prototypes.
Meanwhile, writer Larry Hama, who was a veteran of the US Army and the Vietnam War (and an episode of MASH), had created a proposal for a new SHIELD series, called Fury Force, where Nick Fury's previously unknown son (conceived while on leave, I guess) would lead a team of specialists, against HYDRA. The idea had been shot down, but Hama was called in when other writers turned down the idea to write a toy tie-in comic book. These kinds of things, as well as movie adaptations, were hardly considered plum assignments You usually had to get everything approved by the license holder, which meant more headaches than just a cranky editor. You also tended to get lower tier artists. Hama wasn't an A-list writer; so he didn't quibble much about getting to write a series. As it was, being a veteran, this was up his alley. He volunteered (Army sucker......NAVY: Never Again Volunteer Yourself........_) and dusted off Fury Force. then, amazingly, Hasbro got out of the way and let him go nuts devising names and backgrounds for their prototype figures. he was even allowed to write their profiles on the backer cards for the figure packaging. Other marvel people added to things, as Shooter, Tom Defalco and Archie Goodwin were involved in conferences, with them convincing Hasbro that the needed female characters and that they could package the figures with vehicles, to make them an easier sell (which worked) and that they needed an enemy to fight, with Goodwin suggesting the name COBRA and their leader, Cobra Commander.
Marvel productions was given $5 million to produce animated commercials. Government regulations limited the amount of animation you could use to sell toys, as you had to show the actual toys and kids playing with them, so there was no questions about scale and appearance, unlike those toy soldier ads on the back of comics, with Russ Heath art suggesting something other than tiny little cheap blobs of plastic, which is what you ultimately got. A commercial for a comic book had no such restrictions; so, the first JOE commercials were for the launch of the comics and subsequent issues.......
GI JOE became a rousing success, with the cross promotion of toys, comics and cartoons. The cartoons were 24 minute commercials for the toy lines, though they couldn't run actual commercials for the toys, with the program. However, they could run those commercials with other cartoons and did. they ran the comic book commercials in various places. The comic books had no restrictions on advertising the toys and did so, as well as the cartoons, when they debuted. It was the perfect synergy, to borrow business-speak from 2 decades later. The comics and toys were also marketed in foreign countries, including in the UK, as Action Force Weekly, following on the Action Man toyline, which featured licensed copies of the Hasbro figures. There was an Action Force Monthly comic, with new stories, which was reprinted in the US as GI JOE European Missions. The US comic was popular enough for a reprint series, Tales of GI JOE, and digest reprints, title GI JOE Comic Magazine, as well as annual Yearbooks.
Like all things, the series ended, at Marvel and the license passed on to others; but, this is the one that fans talk about. So, next time, we will dive right in with the debut issue and see if this SHIELD knockoff (my description, at the time) can live up Kirby and Steranko, or at least Tony Isabella & Bob Brown or Marv Wolfman & Ron Wilson; or, possibly, even Gary Friedrich, Dick Ayers & John Severin (Kanigher and Kubert or Heath is too much to hope for).
"BA-TTALION! PASS....IN...REVIEW!"
"A-TEN-TION! RIIIIGHT FACE! FOR-WARDDD MARCH! Ah Left....your left.....a left-right left.......EYES RIGHT!......."
More truth there than most war movies!
ps, the Navy was sorely under-represented in this series. Could have added a few characters, like Sub Hunter.....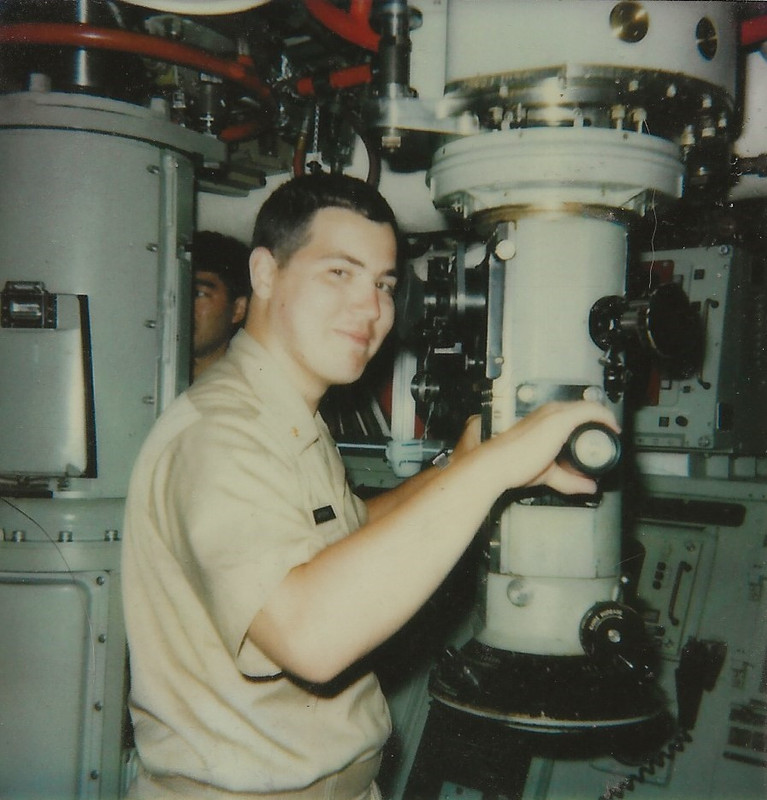 or Top Chop......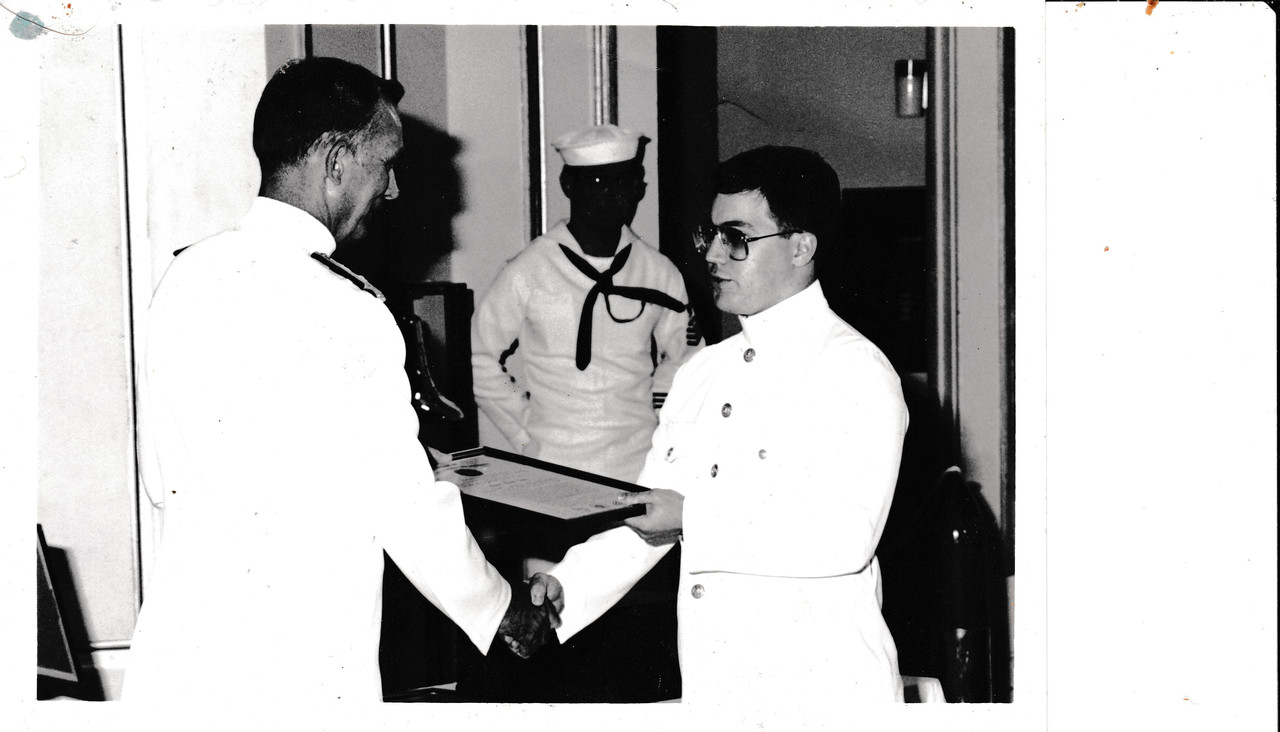 (A "Chop" is Navy slang for a Supply Officer, which was my job. The name comes from the Supply Corps insignia, a leaf with two acorns, which looks like a porkchop, from a distance. hence "Porkchop" or "Chop.")