Post by aquagoat on May 23, 2018 11:16:49 GMT -5
Inspired by Confessor's excellent Marvel Star Wars reviews: classiccomics.org/thread/1039/star-wars-marvel-reviews-confessor.

Here I'll be reviewing the Dark Empire trilogy. It's very controversial among fans - but hey, isn't everything, apart from the first two movies? The Last Jedi's response reminds me of that to Dark Empire - some loved it, others demanded it removed from continuity altogether!
Dark Empire goes in a different direction from the prequels and new Disney movies. I'll highlight 'different continuity' from what followed, but I don't regard them as errors as Dark Empire was created in the early 90s, and it was only written to follow the first three Star Wars movies, not predict six more movies that hadn't happened yet. It's essentially an alternate Episode VII.
Star Wars: Dark Empire # 1:'The Destiny of a Jedi'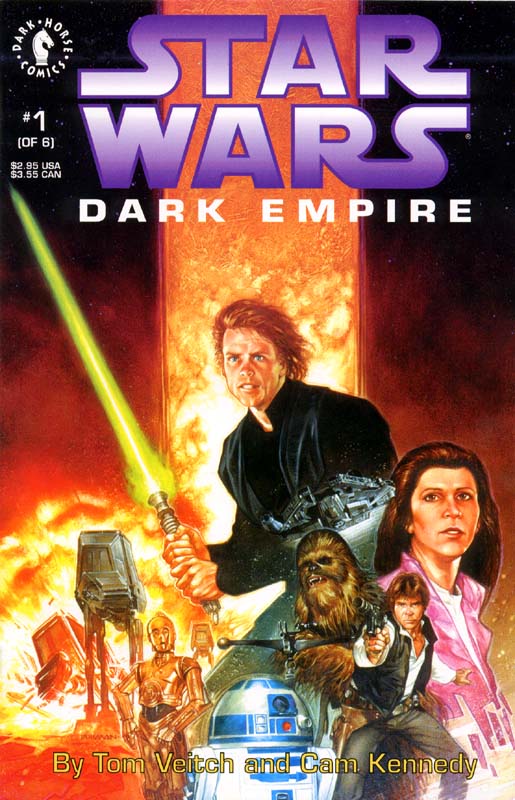 Writer: Tom Veitch
Art: Cam Kennedy
Letters: Tom Klein
Cover art: Dave Dorman
Plot:
Six years after Return of the Jedi, Imperials fight each other over what's left of the Empire. Leia has been taught by Luke in the ways of the Force. She and Han, now her husband, are on a mission to rescue Luke and Lando, who have crashed on a planet that has become an Imperial battleground. Though the rescue is successful, a Dark Side energy storm appears and sweeps Luke up - and Luke goes willingly...

The first thing that hits you about Dark Empire is the art. It's probably not what many readers would expect from a Star Wars comic; but what it is, however, is atmospheric, dramatic, and eye-catching. Scottish artist Cam Kennedy combines realistic anatomy and attention to detail with romantic and otherworldly watercolours which gives Dark Empire a feel like no other comic. If you imagine a more stylised Alex Raymond making Flash Gordon comic strips in the psychedelic 1970s, this is what it might look like.
Iconic spaceships and droids are all perfectly, elegantly depicted (you can virtually hear the roar of the Millennium Falcon on the opening pages); and while the human characters themselves don't resemble the actors (which could be due to a likeness issue), they are clearly recognisable as older versions of Luke, Leia & co. Many comic artists have drawn Star Wars laser beams as clear, straight lines from the attacker's gun to the target, which is solid storytelling. But Kennedy depicts them as short bursts of laser being spat out; closer to the movie, but still in his own style. Equally, Luke's lightsaber is illustrated as an elongated white flame. Lightsabers have been drawn many ways in comics over the years, but this is one of the most effective and coolest versions I've come across.
Jedi Master Luke, in dark robes, saves the rebels by confronting Imperial Walkers single-handedly in Dark Empire; and again in The Last Jedi.
Kennedy also includes his own preference for smoky wastelands and battered technology (familiar from his work on Rogue Trooper), which is perfect for a story set in the aftermath of the Empire's collapse. An early scene in this issue depicts civil war among the Imperials, an incredible two-page spread of storm troopers, TIE fighters and AT-AT Walkers fighting on a battlefield strewn with wreckage. It encapsulates the entire situation instantly - the Imperials fighting each other amidst the wreckage of the Empire, vultures fighting over the remains of a collapsed universe.
Anakin's future is foreshadowed in Attack of the Clones: Luke's future is foreshadowed in Dark Empire. Both scenes show us what appears to be Vader at first before revealing our heroes.
Dark Empire is very cinematic - it reads like storyboards for an unmade version of Episode VII. A sequence where Luke is confronted by - and defeats - an AT-AT Walker uses seven panels to depict something that would usually be done in one or two, and it's use of realistic motion, camera angles and epic visuals recreate the feeling of onscreen action.
The writing balances the epic nature of events with the cliff-hanger serial style perfectly. We are immediately thrown into a series of action sequences with our heroes, who fight imperials, then scavengers with 'hot-wired weapons droids', then Cyborrean battle dogs, and then Luke shows up...it's all in the breathless 'one-peril-after-another' mode of the movies. Veitch also favours old fashioned third-person narrative boxes, describing the action like so...
'The ravages of civil war! Mutinous imperials are deadlocked with forces loyal to the Emperor's inner circle for possession of a world that once ruled the Empire!'
These remind the reader of both the opening crawl of the movies, and the old Flash Gordon comic strips and serials that were an essential part of Star Wars' foundation.
It feels like the logical and natural continuation of Return of the Jedi - specifically in the wreckage of the empire, and in Luke's development - but also in the murky, downbeat tone, which mirrors that of Luke's scenes with Vader and the Emperor in that movie. There Luke discovered the darkness of the Star Wars universe, but also the darkness within himself, and the epic nature of evil. Dark Empire is his struggle to come to terms with it. As such, it really does continue the saga from the movies directly and organically in a way Star Wars spin-off fiction seldom does.
In terms of characterisation, these are broader versions of the characters. Slightly more poetic amidst the typical comicbook exposition. Leia says,
'I can feel the Force moving through me....guiding my hands in the terrible tasks of war..
' - not something she (or anyone) would ever say in the movies, but fitting in with Dark Empire's depiction of a wrecked universe and battlefields strewn with bodies.
Luke in Dark Empire: Anakin in Revenge of the Sith
The depiction of Luke is intriguing, and seems to have influenced the development of Anakin Skywalker in the prequel movies (George Lucas is on record as a fan of Dark Empire). The first time we see him, Luke's silhouette is similar to that of Darth Vader; and what emerges is a black clad, almost tragic hero, powerful but angry and isolated by his destiny. This Luke has acquired a momentous understanding of the universe now, but it's left him damaged. One particularly disturbing image has a pale-faced, yellow-eyed Luke gazing into the distance, awaiting his fate, whilst his friends flee the planet.
Any negatives? Well, Luke
had
already dealt with the Dark Side in RotJ and rejected it...so Dark Empire compromises that movie's ending. But it makes more sense that the Dark Side is always there, tempting Jedi, rather than a simple yes/no decision, and here it is seeking Luke out in a way he can't avoid.
This issue is essentially one long scene, putting all the pieces in place for the story. We learn everything we need to about what has happened since the last movie. A lot of attention has been paid to exactly how Star Wars movies work, and that, combined with Kennedy's unique, moody artwork and Veitch's expansive storytelling, makes for a wonderful start.
Notable dialogue: '
Han, this isn't just another gun battle...a vast evil is approaching...it's knows I'm here. What will happen is unavoidable...it is my destiny.
' - Luke
Continuity issues: This darker Luke is obviously never mentioned in The Last Jedi, but we do briefly see a darker Luke doing questionable things in that movie. Leia's mastery of the Force here does correspond with The Last Jedi, as does her closer relationship with Han.
Favourite panel: So many to choose from, but this one is not only phenomenal art, it encapsulates the story as well. Luke faces his destiny and his friends can't help him. The layout of the panel is brilliant as well - looking at the Force storm devouring AT-AT Walkers, Luke at first looks helpless against it. But as you go down the panel, Luke casts a huge shadow that is visually the match of the storm, and represents his power and resolve. At this point, Han and Leia are just in Luke's shadow.
Rating: 4/5